I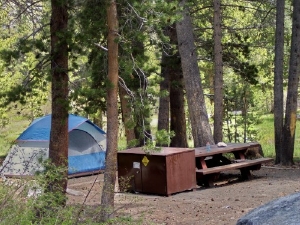 nyo National Forest Campgrounds Opening (USFS Press Release)
BISHOP, Calif., Apr 22, 2014 – A light winter snowpack and warm spring weather means that many campgrounds in the eastern Sierra will be open before the 2014 fishing opener weekend and many more Forest Service campgrounds are expected to be open before Memorial Day.
Big Springs and Lower Lee Vining campgrounds are open on the Mono Ranger District with Gull Lake, June Lake, Oh! Ridge and Silver Lake campgrounds expected to be open by Friday.
In the Mammoth Ranger District, New Shady Rest, Sherwin Creek, Convict Lake, and Crowley Lake campgrounds will be open on or before Friday.
In the White Mountain District, Bitterbrush, Holiday, and Grandview campgrounds are currently open. The McGee, French Camp, Tuff, Forks, Bishop Park, Four Jeffrey, Big Trees, Intake Two, Big Pine Creek, and Upper and Lower Sage Flat campgrounds will be open on or before Friday.
In the Mt. Whitney District, Upper and Lower Grays Meadow, Lone Pine, and Whitney Portal Trailhead campgrounds are currently open. Whitney Portal Campground will be open or before Friday.
Other campgrounds may also open in time for the weekend if conditions permit. Forest Service campgrounds can be reserved at www.recreation.gov.
For more information please go to the Inyo National Forest website at www.fs.usda.gov/recmain/inyo/recreation. The Sierra is experiencing a third year of drought, but visitors should anticipate colder temperatures and snow in the higher elevations and be prepared for those conditions.
Many other camping opportunities exist in Bureau of Land Management campgrounds and various Inyo County, Mono County and private campgrounds in the Eastern Sierra.