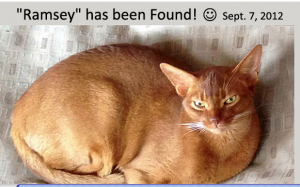 Dear Friends of ICARE,
   Just wanted to let everyone know that Ramsey the cat who was lost in Olancha, California, has been found. He was missing since August 31, 2012 when he got away from his family who were traveling through the Sierra. I received the following e-mail from his overjoyed family and wanted to share this good news:
We now have Ramsey safe and secure in our home back in Orange County. Yesterday at 6pm we received a call from a neighbor in Olancha that Ramsey took refuge at his house (which we suspected the night before). We drove back up to Olancha for the 4th time in a week, arrived there at about 11pm and we were back here in Orange County by 3am. Today we have a vet appointment to check him out. He looks skinnier and pooped. I just wanted to thank you again.
Best wishes,
Kouros
Lisa Schade
ICARE (Inyo and Mono County Animal Resources & Education)
P.O. Box 76; Bishop, CA 93515
Telephone: 760-872-3802
www.ICAREforPets.org