I just wanted to let everyone know that Olive, theBlack Lab,was found safe and sound at 3:15 today, October 1st. Her owners, Bill and Nina retraced the steps of yesterday's hike when shebecome separated from them. They ended up south of the Valentine Reserve at the west end of Mammoth Lakes when they heard splashing in the distance. They ran to find Olive in a 6′ deep culvert with about 2′ of water in it. The steep sides of the structure made it impossible for Olive to get out on her own, so she had spent the last 24 terrifying hours cold and wet waiting to be rescued.
I asked Bill to give Olive a welcome home hug for me and he said "right after she gets a bath." 🙂 Thank you to everyone who helped get the word out. So glad this had a happy ending!
Lisa Schade
ICARE (Inyo County Animal Resources & Education)
P.O. Box 76; Bishop, CA 93515
Telephone: 760-872-3802
www.ICAREforPets.org
LOST DOG – REWARD $300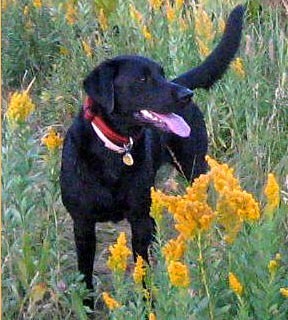 "Olive" is a 2-1/2 year old, 50-lb. Black Lab wearing a red collar.
She was lost in Snowcreek II in Mammoth Lakes, CA. on Sept. 30.
If found, please call her worried owners, Bill and Nina at:
760-924-8962 or cell phones:
703-969-7097 or 703-298-2480
Attached is a poster that we hope you'll cross-post for all to see, especially if you live in Mammoth Lakes.
Thanks for your help with this. In the meantime, let's keep Olive (and Bill and Nina, too) in our thoughts and prayers.
For the animals,
Lisa Schade
ICARE (Inyo County Animal Resources & Education)
P.O. Box 76; Bishop, CA 93515
Telephone: 760-872-3802
www.ICAREforPets.org