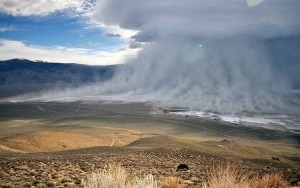 For Immediate Release:
Federal Court Ends Los Angeles Department of Water and Power Lawsuit in Owens Lake case
Date: May 2, 2013
Today, the City of Los Angeles Department of Water and Power's high-profile lawsuit against the Great Basin Unified Air Pollution Control District and other environmental agencies was dismissed by the U.S. District Court for the Eastern District of California.  The City's federal court lawsuit filed in Fresno attempted to prevent the District from enforcing state laws that require the LADWP to control the air pollution caused by its water diversions in the Eastern Sierra.  The most significant air pollution problem in the region is caused by LADWP's drying of Owens Lake.
The lawsuit was supported by the Los Angeles City Council, Mayor Antonio Villaraigosa and City business groups as a means to avoid further air pollution controls.  The lawsuit was opposed by the U.S. Department of Justice, the U.S. Environmental Protection Agency and the California Attorney General's Office, which joined the District by filing legal papers to demonstrate that the City's lawsuit lacked legal merit.  U.S. District Judge Anthony W. Ishii agreed with the District and granted judgment against the City in a twenty-one page opinion.
As a result of the Air Board's decision, the City was compelled to submit a preliminary plan for how it will address the on-going air pollution problem.  It has proposed a plan that will control dust and reduce water use at Owens Lake by over 600 million gallons every year. (This is not DWP's latest Owens Lake Master Plan Project) The District has evaluated and approved the City's proposed plan.  "The City now shows that it can both reduce water use at Owens Lake and control its air pollution," said Schade.  "This conserves water for LA ratepayers while protecting the public health and environment of the Owens Valley."  The City's water divisions are continuing to cause violations of the federal and state air pollution standards, including more than 27 health alerts in the Owens Valley within the last twelve months.
According to Ted Schade, Great Basin's Air Pollution Control Officer, "The LADWP, seeking to avoid the law and its past promises, sued every federal, state and local agency responsible for protecting air quality in California.  Today's court decision is an important victory for every person in California that cares about clean air and a healthy environment.  It also sends an important message to the LADWP ratepayers who are paying for this strategy of almost endless lawsuits.  Great Basin recently wrote to LADWP Board of Commissioners asking it to change directions and begin a new path of serious discussions with Great Basin as to how it can both meet the legal obligation to control its air pollution and protect public health, while saving both water and money on Owens Lake dust controls."
The dismissal of the federal lawsuit was the City's third recent defeat in courts on this issue. Last year, the City was forced to dismiss two state court lawsuits against the District and the California Air Resources Board.  The City also suffered a setback before the Air Board where it appealed its responsibility for the air pollution from Owens Lake.  In 2012, the Air Board reviewed over 50 million data records from the dried lake bed and held a hearing to determine if additional dust controls are required. It determined that Owens Lake air pollution is directly linked to the City's water diversion activities; it rejected all the City's arguments; and it found the ordered air pollution control measures to be reasonable and legally required.  The City has filed another lawsuit in state court to challenge the Air Board's decision.
The City also faces civil penalties and an injunction for its refusals to pay its fees related to the air pollution measures to the District.  Trial in that matter is set for Kern County Superior Court in October 2013.  The City could face penalties of nearly $8 million.  A statement from LADWP comes from Public Affairs Director, Joe Ramallo: "The federal court's ruling was largely procedural and did not address the merits of LADWP's core claim– that LADWP is being forced by local regulators to waste water and money while ignoring a viable alternative for dust control at Owens Lake. We remain committed to exploring all available means for stopping the enormous waste of California's scarce water supply and protecting consumers from the wasteful spending of Owens Valley regulators.  These options include promoting the DWP's Owens Lake Master Project combined with litigation in state court focused on these wasteful water practices."
FEDERAL COURT OPINION:
IN THE UNITED STATES DISTRICT COURT FOR THE EASTERN DISTRICT OF CALIFORNIA
Case 1:12-cv-01683-AWI-SAB
Document 49
Filed 05/02/13
Page 1 of 21
CITY OF LOS ANGELES, a California ) Municipal Corporation, Acting By and ) Through its DEPARTMENT OF ) WATER AND POWER, )
1:12CV1683 AWI SAB
v. ) ) GREAT BASIN UNIFIED AIR ) POLLUTION CONTROL DISTRICT; ) CALIFORNIA AIR RESOURCES ) BOARD; STATE OF CALIFORNIA, ex ) rel. STATE LANDS COMMISSION; ) UNITED STATES BUREAU OF LAND ) MANAGEMENT; UNITED STATES ) ENVIRONMENTAL PROTECTION ) AGENCY, ) ) Defendants. ) ____________________________________)
AND ORDER ON DISMISS F.R.C.P. 12(B)(1) AND 12(B)(6)
Doc. Nos 27 and 33
) MEMORANDUM OPINION
Plaintiff, ) ) DEFENDANTS' MOTION TO
This is an action for declaratory and injunctive relief by plaintiff City of Los Angeles by and through its Department of Water and Power ("City") against defendants California Air Resources Board ("CARB") and the State of California ex rel. State Lands Commission ("Commission") (collectively, the "State Defendants") and the Great Basin Unified Air Pollution Control District ("District"). The instant action is part of a long-running dispute between City and agencies having jurisdiction over air quality issues in the Owens Valley that have been exacerbated by the transfer of water to the Los Angeles basin that had historically drained into Owens Lake.. The result of this transfer of water from the Owens  River and other tributaries to Owens Lake is the reduction of water level in the saline lake and the corresponding expansion of the area occupied by dry lake bed (the "Playa") that is the  source of fine particulate air emissions that exceeds state and federal standards within the  District. In its First Amended Complaint ("FAC"), City challenges the legal basis of yearly  fees it pays to mitigate particulate emissions that emanate from the Playa. In the motions  currently before the court, District and the State Defendants seek dismissal of City's FAC on  both jurisdictional grounds and for failure to allege claims upon which relief can be granted.  Venue is proper in this court.
FACTUAL BACKGROUND AND PROCEDURAL HISTORY  Beginning in 1905, the City of Los Angeles began securing land and the appurtenant  riparian rights to water in the Owens Valley. By 1913 Los Angeles had completed a 233- mile long aqueduct from the Owens Valley to Los Angeles and began transferring water that  had historically flowed into Owens Lake. The Owens Valley and Owens Lake are in Inyo County. The transfer of water previously flowing into Owens Lake reduced the lake to a dry  bed that is an abundant source of very fine particulate matter less than 10 microns in diameter  that is readily blown into the air.  The federal Clean Air Act ("CAA"), 42 U.S.C. §§ 4701 et seq., establishes that  particulate matter less than 10 microns in diameter (PM-10) is a criteria pollutant and  establishes emissions standards for the control of this type of pollution. Air samples taken in  the area administered for CAA purposes by District, including Alpine, Mono and Inyo  Counties, was found to contain levels of PM-10 pollution substantially in excess of federally  established standards due in substantial part to the generation of dust from the dry Owens  Lake bed. Where a state fails to meet "National Ambient Air Quality Standards" ("NAAQS") with regard to any listed pollutant, the CAA requires the state to develop and implement a "State Implementation Plan" (SIP") to bring the offending air quality region within NAAQS standards in a specified period of time. City's FAC alleges that Defendant  District, the entity tasked with responsibility under the CAA to implement the SIP, attempted  to assert jurisdiction over City by way of writ of mandamus in the early 1980's. In 1983, the  California legislature, in consultation with the City of Los Angeles, promulgated section  42316 of the California Health and Safety Code (hereinafter "Section 42316″), which  authorized District to order City to undertake measures at City's expense to mitigate the  production of dust from the Owens Lake basin. Although the suit for writ of mandamus was  dismissed following the promulgation of Section 42316, City alleges that the Section "does  not implicate, at all, the provisions of the CAA." Doc. # 21 at ¶ 32.
The FAC alleges that in November 1998, District submitted a SIP for PM-10 control  within the Owens Valley Planning Area that "prescribes only three allowable mitigation control measures that can be used to control PM-10 [emissions within the Owens Valley 13 Planning Area]: (1) shallow flooding; (2) managed vegetation; and (3) gravel cover." Doc. # 14 21 at ¶ 43. City alleges that it has made numerous attempts to expand the list of options for  mitigation of PM-10 emissions but all such attempts have been refused. The FAC does not  give any indication what mitigation techniques were requested and refused.
The FAC alleges the 1998 SIP was revised in 2003 and identified a maximum control  area on Owens Lake of 29.8 square miles, within which mitigation measures assigned to City  were "completed by City by the December 31, 2006, deadline set by the EPA in the 1998 20 SIP." Doc # 21 at ¶ 48. In 2006, District "attempted to impose additional control requirements on City, not under Section 42316, but instead under the CAA." Doc. 21 at ¶ 49.  City objected to the additional orders, but to settle the dispute, District and City entered into  an agreement (the "2006 Agreement") in which City agreed to expand mitigation measures  for which it was responsible under the 1998 SIP to a total of 43 square miles of the Playa.
Apparently a further SIP was developed in 2008 pursuant to which contingency measures for  additional mitigation would be imposed on City in the event the measures imposed by the 2006 Agreement failed to make reasonable progress toward attainment of NAAQS standards 2 for PM-10 emissions. City alleges that contingency measures have been imposed under the  2008 SIP in 2011 and 2012 that impose additional costs and duties on City. City alleges that neither the 2003 SIP nor the 2008 SIP were approved by the EPA.
Defendants have filed a notice of related cases that have been filed in California superior courts. Defendants contend that each of the cases filed in state court challenge the  imposition of mitigation duties and associated fees under Section 42316 on grounds that are  similar to or the same as the grounds advanced in this action. So far as the court is aware, the  state court cases are still pending. The instant action was originally filed on October 12, 2012. City's FAC was filed on November 9, 2012. District and the State Defendants filed  their motions to dismiss on December 18, 2012, and December 19, 2012, respectively. City  filed its opposition to District's and State's motions to dismiss on February 4, 2013. Reply  briefs were filed by District and State on February 19, 2013. The federal Defendants were  voluntarily dismissed with prejudice on February 20, 2013. The matter was taken under submission as of February 25, 2013.  LEGAL STANDARD 17 Rule 12(b)(1) of the Federal Rules of Civil Procedure allows a motion to dismiss for  lack of subject matter jurisdiction. It is a fundamental precept that federal courts are courts of  limited jurisdiction. Limits upon federal jurisdiction must not be disregarded or evaded.  Owen Equipment & Erection Co. v. Kroger, 437 U.S. 365, 374 (1978). The City has the  burden to establish that subject matter jurisdiction is proper. Kokkonen v. Guardian Life Ins.  Co., 511 U.S. 375, 377 (1994). This burden, at the pleading stage, must be met by pleading  sufficient allegations to show a proper basis for the court to assert subject matter jurisdiction  over the action. McNutt v. General Motors Acceptance Corp., 298 U.S. 178, 189 (1936); 25 Fed. R. Civ. P. 8(a)(1). When a defendant challenges jurisdiction "facially," all material  allegations in the complaint are assumed true, and the question for the court is whether the lack of federal jurisdiction appears from the face of the pleading itself. Thornhill Publishing 2 Co. v. General Telephone Electronics, 594 F.2d 730, 733 (9th Cir. 1979); Mortensen v. First  Fed. Sav. & Loan Ass'n, 549 F. 2d 884, 891 (3d Cir.1977); Cervantez v. Sullivan, 719 F.  Supp. 899, 903 (E.D. Cal.1989), rev'd on other grounds, 963 F. 2d 229 (9th Cir.1992).
A defendant may also attack the existence of subject matter jurisdiction apart from the  pleadings. Mortensen, 549 F. 2d at 891. In such a case, the court may rely on evidence  extrinsic to the pleadings and resolve factual disputes relating to jurisdiction. St. Clair v. City  of Chico, 880 F. 2d 199, 201 (9th Cir.1989); Roberts v. Corrothers, 812 F.2d 1173, 1177 (9th 9 Cir.1987); Augustine v. United States, 704 F.2d 1074, 1077 (9th Cir.1983). "No presumptive truthfulness attaches to plaintiff's allegations, and the existence of disputed material facts will not preclude the trial court from evaluating for itself the merits of jurisdictional claims." Thornhill Publishing, 594 F.2d at 733 (quoting Mortensen, 549 F.2d at 891).  "In resolving a Rule 12(b)(1) motion [to dismiss] for lack of subject matter  jurisdiction, unlike motions brought pursuant to Rule 12(b)(6), courts are generally free to  consider relevant materials outside the pleadings. [Citations.]" Nat'l Comty. Reinvestment  Coalition v. Nat'l Credit Union Admin., 290 F.Supp.2d 124, 131 (D.C. 2003).  A motion to dismiss pursuant to Rule 12(b)(6) of the Federal Rules of Civil Procedure  can be based on the failure to allege a cognizable legal theory or the failure to allege sufficient facts under a cognizable legal theory. Robertson v. Dean Witter Reynolds, Inc., 20 749 F.2d 530, 533-34 (9th Cir.1984). To withstand a motion to dismiss pursuant to Rule  12(b)(6), a complaint must set forth factual allegations sufficient "to raise a right to relief  above the speculative level." Bell Atlantic Corp. v. Twombly, 550 U.S. 544, 555 (2007)  ("Twombly"). While a court considering a motion to dismiss must accept as true the allegations of the complaint in question, Hospital Bldg. Co. v. Rex Hospital Trustees, 425 25 U.S. 738, 740 (1976), and must construe the pleading in the light most favorable to the party 26 opposing the motion, and resolve factual disputes in the pleader's favor, Jenkins v. McKeithen, 395 U.S. 411, 421, reh'g denied, 396 U.S. 869 (1969), the allegations must be  factual in nature. See Twombly, 550 U.S. at 555 ("a plaintiff's obligation to provide the  'grounds' of his 'entitlement to relief' requires more than labels and conclusions, and a  formulaic recitation of the elements of a cause of action will not do"). The pleading standard  set by Rule 8 of the Federal Rules of Civil Procedure "does not require 'detailed factual allegations,' but it demands more than an unadorned, the-defendant-unlawfully-harmed-me  accusation." Ashcroft v. Iqbal, 129 S.Ct. 1937, 1949 (2009) ("Iqbal").  The Ninth Circuit follows the methodological approach set forth in Iqbal for the assessment of a plaintiff's complaint: "[A] court considering a motion to dismiss can choose to begin by identifying pleadings that, because they are no more than conclusions, are not entitled to  the assumption of truth. While legal conclusions can provide the framework of a complaint, they must be supported by factual allegations. When there are  well-pleaded factual allegations, a court should assume their veracity and then determine whether they plausibly give rise to an entitlement to relief." Moss v. U.S. Secret Service, 572 F.3d 962, 970 (9th Cir. 2009) (quoting Iqbal, 129 S.Ct. at 1950).
DISCUSSION
City's FAC originally alleged fourteen claims for relief. City's first, second and third claims for relief implicate provisions of the CAA; the fourth claim for relief alleges violation of the Equal Protection Clause of the Fourteenth Amendment; the fifth claim alleges violation of the National Environmental Policy Act ("NEPA"); the eighth claim alleges violation of the National Historic Preservation Act; and City's fourteenth and final claim for relief is pursuant to the federal Quiet Title Act, 28 U.S.C. § 2409a. All other claims for relief alleged in the FAC arise under state law. It should be noted at the outset that the FAC does not allege any of the claims against an identified Defendant. The court also notes that, although the Defendant parties set fourth somewhat different grounds, their common contention is that City has failed to allege, or is prevented from alleging, any claims arising under federal law that would give rise to federal subject matter jurisdiction.
During the pendency of the instant motions to dismiss, the Federal Defendants –  Bureau of Land Management and Environmental Protection Agency – were dismissed with  prejudice. See Doc. # 41. The court is not aware that any of the federal claims for relief set  forth in the FAC were dismissed along with the dismissal of the federal Defendants. However, the court does note that City's opposition to Defendants' motions to dismiss  addresses specifically the claims arising under federal law alleged in City's first, third, and  fourth claims for relief. Because dismissal of the federal claims alleged in City's second,  fifth, eighth and fourteenth claims for relief are not opposed and because they appear by 9inspection to have been directed at the Federal Defendants, those claims will be dismissed without further discussion.  As Defendant District points out, City's action is, at its core, a challenge to the  authority of the State to promulgate Section 42316, and the authority of District to enforce its  provisions. Defendant District summarizes the provisions of Section 42316 as follows:
Section 42316 is at the heart of this case. [. . . .] Section 42316(a) provides that the District may require the City to undertake reasonable measures to mitigate the air quality impacts of its diversion of water from Owens Lake based upon substantial evidence that the diversions cause violations of state or federal ambient air quality standards. The District may also require the City to pay reasonable fees associated with the development of the mitigation measures and related air quality analysis. In return the statute provides that the mitigation measures shall not affect the right of the City to divert the water.
Section 42316(b) provides that the City may appeal the measures or fees imposed by the District to CARB, which will conduct an independent hearing on the validity of the measures or reasonableness of the fees. Either the City or the District may challenge the CARB decision by filing a state  court action under Cal. Civ. Proc. Code Section 1094.5, the standard state court procedure to challenge agency action. Doc. # 27 at 12:16-13:3 (internal citations omitted). City does not dispute Defendants' summary and the court finds the foregoing is an accurate representation of the provisions of Section 42316. I. Section 42316 Not Preempted by the Clean Air Act
The FAC alleges, correctly, that under the CAA, "states are charged with the primary responsibility for controlling air pollution at the source 'consistent with the provisions' of the CAA. 42 U.S.C. § 1704(b)(4)." Doc. # 21 at ¶ 89. Pursuant to 42 U.S.C. § 7416, except for  limited preemption of certain State regulation of moving sources not relevant here, "nothing  in this chapter shall preclude or deny the right of any State or political subdivision thereof to  adopt or enforce (1) any standard or limitation respecting emissions of air pollutants or (2) any requirement respecting control or abatement of air pollution; except that [. . .] such State  or political subdivision may not adopt or enforce any emission standard or limitation which is  less stringent than the standard or limitation under [a federally mandated] plan or section. Id.  While City recognizes the broad scope of authority of states to craft plans to achieve NAAQS standards, they contend nonetheless that Section 42316 is preempted because the means of  compliance provided by Section 42316 conflicts with the CAA because it impermissibly  transfers responsibility for compliance from the "owner or operator" of the emitting facility to  the City, which they contend is neither owner or operator of the Owens Lake Playa.  "The question of whether a certain state action is pre-empted by federal law is one of  congressional intent. The purpose of Congress is the ultimate touchstone." Gade v. Nat'l  Solid Waste Mgmt. Ass'n, 505 U.S. 88, 96 (1992) (internal citations and quotation marks 17 omitted). Pre-emption may be either expressed or implied, and is compelled whether Congress' command is explicitly stated in the statute's language or implicitly contained in its structure and purpose. Absent explicit preemptive language, we have recognized at least two types of implied pre-emption: field pre- emption, where the scheme of federal regulation is so pervasive as to make reasonable the inference that Congress left no room for the States to supplement it, and conflict pre-emption, where compliance with both federal and state regulations is a physical impossibility, or where state law stands as an obstacle to the accomplishment and execution of the full purposes and objectives of Congress.
Of particular significance to this action, the section provides "that air pollution prevention (that is, the reduction or elimination, through any measures, of the amount of pollutants produced or created at the source) and air pollution control at its source is the primary responsibility of the 2 States and local governments." Subsection 7410(a)(3). In subdivision 7410(b), Congress  declares that the purposes of the CAA are to; (1) protect and enhance the quality of the  Nation's air resources, (2) "initiate and accelerate a national research and development program," (3) to provide "technical and financial assistance to State and local governments in  connection with the development and execution of their air pollution prevention and control  programs," and (4) to "encourage and assist the development and operation of regional air  pollution prevention and control programs." Id. (italics added).
City opposes Defendants' motion to dismiss the preemption claim by arguing that  Section 42316 "conflicts with the CAA's enforcement mechanism which expressly places  responsibility on the 'owners" or 'operators' of stationary emission sources." Doc. # 39 at 12 6:16-19. City supports its contention that only "owners or operators" are responsible by  referring to the use of those terms in the portion of the CAA that describes the elements of a 1SIP. In particular, City notes that a SIP may "require, as may be prescribed by the  Administrator" "the installation, maintenance, and replacement of equipment, and the  implementation of other necessary steps, by owners or operators of stationary sources to 17 monitor emissions from such sources," 42 U.S.C. § 7410(a)(2)(F)(i), and to require the owner 18 or operator of each major stationary source to pay a fee to the permitting authority to cover 19 costs. 42 U.S.C. § 7410(a)(2)(L)(ii). 20 City argues that it is neither an owner or operator of the stationary facility (the Playa) 21 and the State's attempt to place the duty of emissions control through Section 42316 on them 22 is in contravention of Congress's intent. City's argument with regard to conflict preemption 23 fails for two reasons. First, there is absolutely no indication that subsection 7410(a) evinces a 24 congressional intent to confine a state's approach to mitigating its air quality problems by 25 placing mitigation responsibilities solely on a technical class of persons called "owners or 26 operators." The subsections cited by City empower states, through their implementation plans, to pass the costs of monitoring pollutants and the costs incurred in the permitting 2 process on to owners or operators in the form of permitting fees. There is nothing in the 3 language of the statutes cited or the purposes of the CAA itself that immunizes parties not 4 technically classifiable as owners or operators from responsibility to mitigate discharges of 5 pollutants that are caused by their actions. There is also nothing in the language of the 6 statutes cited or the purposes of the CAA that prohibit state legislatures from apportioning 7 rights, responsibilities and costs through legislation so long as the legislation addresses the 8 state's primary responsibility to bring its air quality within NAAQS standards. 9 Second, and perhaps more on point, there is no reason in law or logic that City should not be deemed by District an "operator" of the Playa in proportion to the area that is dry as a 11 consequence of their activities upstream. Except for that portion of the Owens Lake bed that 12 would be dry if City diverted no water from its tributaries, the condition and extent of the 13 Playa is determined by the extent of City's water transfer which is, under the terms of Section 14 42316, determined by the City alone. Although the CAA does not define the term "operator" 15 and case law addressing the issue is, at best, sparse; such cases as the court can find – which 16 address the issue in the context of criminal and civil liability in asbestos removal cases – are 17 not inconsistent with the proposition that an operator is the person or entity that has "significant or substantial or real control and supervision" over the activities causing the 19 emissions. United States v. Walsh, 8 F.3d 659, 663-664 (9th Cir. 1993) ("Walsh") (finding 20 company supervisor in asbestos removal projects was an "operator" based on real control 21 over activities causing airborne emissions even he did not own the property or the company). 22 The court finds that this definition is suitable here where it is solely the City's activities with 23 regard to water transfer facilities (which it does own) that directly and predictably determine 24 the emissions potential of hazardous pollutants downstream on land that it does not own. 25 What Walsh and the few cases like it teach is that, for purposes of the CAA, ownership or 26 management of the land underlying a pollution source is mostly irrelevant to the question of  liability. What is more determinative of liability is the identity of the people or entities that 2 have control over the activities that directly or indirectly cause the pollution. The court finds 3 that City is a significant "operator" of the Playa for purposes of the mitigation requirements 4 of the CAA. 5 In addition, while "polluter pays" is not a universal principal and may not be an 6 important consideration in some contexts, see Beazer East, Inc. v. Mead Corp., 412 F.3d 429, 7 446-447 (3rd Cir. 2005) ("polluter pays principle is not primary policy consideration in 8 contribution claims under CERCLA), in the context of the CAA Congress evinced the intent 9 that the polluter should pay by the granting to the state broad powers to form implementation plans that are tailored to individual situations pursuant to subsection 7140. The CAA also 11 evinces support for the "polluter pays principle" by the commitment of government resources 12 to hold "any person" liable through civil action for violation of the state's SIP pursuant to 13 subsection 7413. 14 The court finds that Congress' use of the otherwise undefined term "owner or 15 operator" is merely a way of granting to the states the explicit ability to include in their SIP's 16 provisions to pass-through costs for monitoring and administration of their permitting 17 program to those responsible for operation of single source emission facilities. The court 18 finds that in this context, Congress intended that the term "owner or operator" is to be 19 construed broadly, as part of the state's authority to craft responses appropriate to identified 20 problems, rather than narrowly, as a means of limiting the liability of entities whose actions 21 are the actual cause of emissions in excess of allowable limits. In promulgating Section 22 42316, California did by legislative enactment no more than what it was empowered to do 23 under the CAA; it identified the entity whose activities are most central to the emission of 24 high levels of a hazardous pollutant and tasked that entity with the responsibility to mitigate 25 those emissions as a part of its overall plan to bring the level of emissions in the District to an 26 acceptable level. Whether one characterizes the placement of responsibility on City to carry out and fund the mitigation strategy as emanating from state or federal law makes no 2 difference since California was empowered to place that responsibility under either. 3 The court concludes that City's first claim for relief alleging preemption under the 4 Clean Air Act is without merit. 5 II. Other Claims for Relief Under Federal Law 6 As noted above, the court finds that City's second, fifth, eighth and fourteenth claims 7 for relief may be dismissed without further discussion because those claims are assumed to 8 have been alleged against the Federal Defendants. City's remaining federal claims for relief 9 require comparatively little discussion.
A. Third Claim for Relief to Declare 2008 SIP Unenforceable 11 Plaintiff's third claim for relief alleges that the 2008 SIP is unenforceable under the CAA 12 because it fails to meet the standards for State Implementation Plans set forth at 42 U.S.C. § 13 7410(k). City alleges that the 2008 SIP is fundamentally flawed because City's mitigation 14 efforts since 2000 aimed at reducing PM-10 emissions have failed to bring District's 15 emissions of PM-10's within NAAQS standards. City alleges that the 2008 SIP "relied 16 exclusively on Section 42316 to circumvent [requirements for the inclusion of enforceable 17 emissions limitations and other control measures] when it prepared the 2008 SIP." Doc. # 39 18 at 8:2-3. 19 Defendant District's motions to dismiss City's third claim for relief admit the 2008 20 SIP has not been approved by EPA and is therefore not enforceable under federal law. 21 However, District contends that what is being enforced is not the 2008 SIP, but the 2006 22 Settlement which is enforceable through Section 42316. In short, District contends that, as a 23 state agency, it enforces state law, not federal law. City's opposition addresses District's 24 contention by reasoning that, if the CAA preempts Section 42316, then the provisions of the 25 2006 Settlement are only enforceable through the CAA through the 2008 SIP, which is 26 invalid. The court, having found that the CAA does not preempt Section 42316, finds there is 2 no basis for invalidating mitigation programs established under the 2006 Settlement nor is 3 there any legal ground on which the enforcement under Section 42316 could be enjoined 4 based on the requirements of the CAA. The court therefore finds Plaintiff's third claim for 5 relief fails to state a legal basis upon which relief can be granted.
B. Fourth Claim for Relief Under Fourteenth Amendment 7 City's fourth claim for relief alleges that enforcement of Section 42316 results in 8 violation of the Equal Protection and Substantive Due Process clauses of the Fourteenth 9 Amendment. The claim is based on the contention that "Section 42316 denies the City and its water customers of the equal protection of the laws by creating an arbitrary classification 11 that treats one entity, the City and its water customers, differently than other entities who are 12 regulated as "sources" of air pollution under the CAA. Both State and District Defendants 13 seek to dismiss City's Fourteenth Amendment claim on the ground this court should abstain 14 pursuant to either Younger v. Harris, 401 U.S. 37 (1971), or Burford v. Sun Oil Co., 319 U.S. 15 315 (1943).
The basic idea behind the Defendant parties' assertions that the court should abstain 17 from addressing the City's substantive Fourteenth Amendment claim is that California 18 legislature, in enacting Section 42316, provided a specified pathway for administrative appeal 19 and civil adjudication of "any measures or fees imposed by the [D]istrict." That pathway includes administrative appeal to CARB requiring an independent investigation by CARB of 21 any complaint regarding the imposition of any measure or fee upon 30 days notice of same. 22 Upon decision by the state board, either party "may bring a judicial action to challenge a 23 decision" by CARB pursuant to Section 1094.5 of the California Code of Civil Procedure. 24 Section 1094.5 provides that the decision of an administrative body may be reviewed in a superior court without a jury under a petition for writ of mandamus. The section also 26 provides the relevant standards of review, provisions for stay and the admission of previously  unavailable evidence. Defendants allege, and City does not dispute that City has raised 2 Fourteenth Amendment claims, including equal protection and substantive due process 3 claims in the pending state court case or cases. 4 1. Younger Abstention to Younger v. Harris, 401 U.S. 147 (1971), a federal court should generally 6 "abstain from granting injunctive relief that would interfere with pending state judicial 7 proceedings. Martinez v. Newport Beach City, 125 F.3d 777, 781 (9th 1997) (citing Younger, 8 401 U.S. at 40-41). "Abstention is appropriate in favor of state proceedings if (1) the state proceedings are ongoing, (2) the proceedings involve important state interests, and (3) the 10 state proceedings provide the plaintiff an adequate opportunity to litigate federal 11 constitutional questions." Aiona v. Judiciary of State of Hawaii, 17 F.3d 1244, 1248 (9th Cir. 12 1994). To these three elements, the Ninth Circuit found a fourth was implied: "(4) the federal 13 court action would 'enjoin the [state] proceeding or have the practical effect of doing so.'" 14 Portrero Hills Lanfill, Inc., 657 F.3d 876, 882 (9th Cir. 2011) (quoting AmerisourceBergen 15 Corp. v. Roden, 495 F.3d 1143, 1148-1149 (9th Cir. 2007)). 16 Although abstention under Younger was typically applied to limit a district court's 17 intervention in pending criminal cases, the Supreme Court in New Orleans Public Service, 18 Inc. v. New Orleans City Council, 491 U.S. 350 (1989) ("NOPSI"), explained how the 19 doctrine has been expanded to limit federal court intervention in civil cases that are of the 20 sort to which Younger applies. Id. at 367-368. Of significance to the instant analysis, the 21 NOPSI court explained that, in examining whether the proceeding pending in state court 22 involves important state interests, the district court looks beyond the state's narrow interest in 23 the outcome of a particular review to discern "the importance of the generic proceedings to 24 the State." Id. at 365. The NOPSI court accepted as true for purposes of that decision that, 25 for purposes of Younger analysis, a state's process for judicial review of an agency 26 determination is an "uninterrupted whole" such that the disappointed party may not "procure  federal intervention by terminating the state judicial process prematurely." Id. at 369. "'[A] 2 necessary concomitant of Younger is that a party [wishing to contest in federal court the 3 judgment of a state judicial tribunal] must exhaust his state appellate remedies before seeking 4 relief in the District Court.' [Citation.]" Id. (quoting Huffman v. Pursue, Ltd., 420 U.S. 592, 5 608 (1975)).
City contends that Younger does not apply in this action because the state 7 "proceeding" in question here is not of the sort that requires a district court to abstain under 8 Younger. The Supreme Court, in Middlesex County Ethics Comm. v. Garden State Bar 9 Ass'n, 475 U.S. 423 (1982), held that the state proceeding has sufficient state interest to require the application of Younger if the proponent could demonstrate that the state 11 proceedings were "necessary for the vindication of important state policies or for the 12 functioning of the state judicial system." Id. at 432. In Potrero Hills, the Ninth Circuit 13 explained that every extension of Younger requires a "determination whether federal 14 adjudication would offend the doctrine's animating principles, foremost of which is 'the 15 notion of "comity," that is, a proper respect for state functions.'" Potrero Hills, 657 F.3d at 16 882 (quoting Younger, 401 U.S. at 44, italics added in Potrero Hills). The Potrero Hills court 17 further explained:
The key to determining whether comity concerns are implicated in an ongoing state proceeding – and thus whether the second Younger requirement – is to ask whether federal court adjudication would interfere with the state's ability to carry out its basic executive, judicial, or legislative functions. Unless 20 interests "vital to the operation of state government" are at stake, federaldistrict courts must fulfill their "unflagging obligation" to exercise the 21 jurisdiction given them.  Id. at 883 (quoting Miofsky v. Superior Court, 703 F.2d 332, 337 (9th Cir. 1983)). "Thus, 23 when the state seeks to enforce a law of significant state importance through judicial or quasi- 24 judicial action, we have found abstention necessary to protect the state's unique interest in 25 exercising its basic executive functions in a wide range of civil contexts." Id. at 884. 26 At the outset, it is important to note that the first, third and fourth requirements for application of Younger abstention are not disputed; that is, there appears to be no dispute that 2 there is at least one ongoing state proceeding, that an opportunity to address the federal 3 (Fourteenth Amendment) issue is available there, and that this court's ruling on the 4 enforceability of Section 42316 would have the effect of enjoining the state proceeding(s).
Thus the only issue raised by City's opposition to the application of Younger to City's third 6 claim for relief is the issue of whether the proceedings in state court under Section 42316 7 implicate important state interests. 8 The parties' undisputed background information with regard to the transfer of water 9 from the Owens River Valley makes the overall purpose of Section 42316 self-evident. The Section was promulgated in an effort to address an important and rather unique source of 11 particulate air pollution that came into existence substantially through the water-exporting 12 activities of City. The Playa is a major source of dust that causes citizens up to 200 miles 13 distant to experience hazardous levels of PM-10 pollution. In apportioning the costs of 14 mitigation, Section 42316 reflects the commonly applied principle that one who benefits by 15 causing hazardous pollution, the effects of which are suffered by others, is obliged to mitigate 16 or pay the costs thereof. Common notions of fairness make the application of the "polluter 17 pays" principle particularly appropriate in this unusual situation where City's water transfer 18 activities are not only a substantial cause of the pollution but are also a substantial reason the 19 Owens Valley has not been able to experience economic development to an extent that would 20 allow it to contribute significantly to the mitigation effort. In sum, Section 42316 is California's legislative response to promote its important interest in the promotion of 22 citizens' health, balancing that interest with its interest in securing adequate water for its 23 metropolitan areas and apportioning the costs that arise from the balancing of those interests 24 in a way that assures both effectiveness and political acceptability. 25 The court finds it is abundantly clear that Section 42316 is absolutely integral to the 26 State's legislative and administrative functions in that it represents the ability of the state to  balance two of its most crucial functions; the supply of water within the State's extensive and 2 complex water distribution system and the promotion of public health through air pollution 3 control. Notwithstanding the evident importance of Section 42316 in the State's efforts to 4 manage both air pollution and water availability, City contends Younger should not apply because enforcement of Section 42316 does not put the State in an enforcement posture. As 6 City rightly observes, the Ninth Circuit's decision in Potrero Hills opined that "[w]here the 7 state is in an enforcement posture in the state proceedings, the 'important state interest' 8 requirement is easily satisfied, as the state's vital interest in carrying out its executive functions is presumptively at stake." 657 F.3d at 883-884. City opposes application of Younger abstention by contending that:
11 [T]he District's application of Section 42316 is an improper exercise of the District's rulemaking authority under the California Health And Safety Code, which is an action that is legislative in nature. For example, the 2011 [Supplemental Control Requirement Determination] requires the city to 13 construct additional dust control measures, changing the City's existingobligations, and creating new obligations. Thus the 2011 SCRD is a 14 legislative action that "looks to the future and changes existing conditions by making a new rule to be applied thereafter." See NOPSI, 491 U.S. at 370-371 15 (quoting Prentis v. Atlantic Coast Line Co., 211 U.S. 210, 226 (1908).
Doc. # 39 at 12:5-11. 17 The court disagrees with City's characterization of the state proceedings under 18 Section 42316. City's argument seeks to analogize the issuance of sequential Supplemental 19 Control Requirement Determinations ("SCRD's") with rate-making, which was characterized 20 in NOPSI as legislative in nature in that it makes rules for the future rather than enforces 21 rules from the past. The court disagrees. The "Rule" in this instance is the level of PM-10 22 pollution that is permissible within the Owens Valley Planning Area. That level is set by 23 California through its adoption of standards set by the CAA through the NAAQS. Section 24 24316 is properly seen as a response to rule making that is carried out at the federal and state 25 level, not as rulemaking itself. 26 Section 42316 is a particular piece in California's overall effort to attain compliance  with state and NAAQS PM-10 emission standards in the unusual context where there is a 2 localized source and a localized authority, but the authority and the source are geographically 3 separated. In this regard, Section 42316 is essentially adjudicatory in nature. As City points 4 out, Section 42316 confers jurisdiction by District over City for the purpose of gathering 5 evidence to make a determination of reasonable mitigation measures and to determine the 6 apportionment of costs for those measures according to substantial evidence. The Section 7 provides for hearing and determination by District, neutral review by CARB and further 8 appeal according to Section 1094.5 of the California Code of Civil Procedure in California 9 Superior Court.
The court concludes that the proceedings currently underway1 in Los Angeles and/or 11 Kern County pursuant to Section 42316 involve important state interests as that term is 12 defined in NOPSI and its progeny such that the court is obliged to abstain from the exercise 13 of jurisdiction over City's fourth claim for relief under Younger.. Because City's fourth claim for relief under the Fourteenth Amendment seeks declaratory and injunctive relief 15 rather than damages, the proper course of action for this court is to dismiss, rather than stay, 16 the claim for relief. Gilbertson v. Albright, 381 F.3d 965, 968 (9th Cir. 2004). City's fourth 17 claim for relief will therefore be dismissed. 18 2. Burford Abstention 19 In addition to contending that abstention is proper under Younger as to City's fourth 20 claim for relief, District also contends that abstention is also proper under Burford v. Sun Oil 21 Co., 319 U.S. 315 (1943). In NOPSI, the Supreme Court summarized the requirements of the 22 Burford doctrine as follows:
City asserts in a footnote that it does not concede that there are proceeding underway in Superior Court that are pursuant to Section 42316 because, City contends, Section 42316 (b) "limits the types and process of administrative appeals before the CARB." Doc. # 39 at n.3. City does not, however, develop that argument in their opposition and the Court finds there is no basis upon which the court can conclude that the case or cases currently before the Superior Court are not "underway" within the framework of Section 42316.  sitting in equity must decline to interfere with the proceedings or orders of state administrative agencies: (1) when there are "difficult questions of state law bearing on policy problems of substantial public import whose importance transcends the result in the case then at bar"; or (2) where the "exercise of federal review of the question in a case and in similar cases would be disruptive of state efforts to establish a coherent policy with respect to a matter of substantial public concern." 5 NOPSI, 491 U.S. at 361 (quoting Colorado River Water Conservation Dist. v. United States, 6 424 U.S. 800, 814 (1976)). The parties do not appear to dispute that the Ninth Circuit has put 7 a slightly more restrictive gloss on the Burford doctrine, requiring a showing that (1) the state 8 must have "'concentrated suits involving the local issue in a particular court; [second,] the 9 federal issues are not easily separable from complicated state law issues with which state courts may have special competence; and [third,] that federal review might disrupt state 11 efforts to establish a coherent policy.'" Doc. # 39 at 13:4-7 (quoting Tucker v. First Md. 12 Savings & Loan, Inc., 942 F.2d 1401, 1405 (9th Cir. 1991)). 13 City contends first that abstention under Burford is inappropriate where preemption is 14 an issue in the claim because such abstention would be an implicit ruling on the merits.
City's argument is not persuasive in this regard because the court has ruled on the merits of 16 City's preemption claim and has found that the CAA does not preempt Section 42316. 17 Second, City opposes the application of Burford abstention in this case by contending that 18 "the case does not involve judicial review of a complex state administrative decision that is 19 subject to a concentrated appeal process in a specialized state court." Doc. # 39 at 13:23-24. 20 In their opposition to District's argument for Burfort abstention, City cites Kirkbridge 21 v. Continental Cas. Co., 933 F.2d 729 (9th Cir. 1991) for the proposition that Burford abstention is inappropriate where the state has not created what City contends must be a 23 specialized court; that is, a court not of general jurisdiction. City's reliance on Kirkbridge for 24 the proposition that the appeal process must be concentrated in a specialized state court that 25 is not a court of general jurisdiction is problematic. The standard set forth in Tucker, as 26 quoted above, provides that a suit arising from an appeal of agency action be concentrated in  a particular court, not a specialized court. The "specialized court" found lacking in 2 Kirkbridge, referred the court's observation there was no adjudicatory structure outside of the 3 general California court system "to resolve disputes over insurance policy coverage." 993 4 F.2d at 734. What the court interprets Kirkbridge to illustrate is that, where California has 5 not legislated the existence of an administrative structure to resolve a particular type of 6 dispute (such as insurance coverage), that fact is sufficient to demonstrate that the state 7 proceeding does not concern a local issue implicating "complicated state law issues with 8 which state courts may have special competence." Tucker, 942 F.2d at 1405. The court 9 does not find Kirkbridge to stand for the proposition that where California legislature has set up an administrative adjudicative process to deal with a particular problem or issue, that is 11 must also set up a specialized and separate court for judicial review in order for 12 Burford abstention to be appropriate. 13 Section 42316 provides a very specialized forum for the resolution of disputes arising 14 from District's decisions in the District itself, in the first instance, with independent review at 15 the level of CARB. While judicial review of CARB's decision is committed to a court of general jurisdiction, even that judicial review is confined to a particular court – the Superior 17 Court of Los Angeles County. This is true because the only entity authorized by Section 18 42316 to appeal measure or fees imposed by the district is the City of Los Angeles which lies 19 in the jurisdiction of the Superior Court of that county. The court finds that the administrative and judicial review process established by Section 42316 is sufficiently 21 particularized to fall within the requirements for Buford abstention as set forth in Kirkbridge. 22 Although City does not argue for or against the second and third of the factors in 23 Tucker, the court has no difficulty in finding that both are met. The second factor – federal 24 issues are not easily separable from complicated state law issues with which state courts may 25 have special competence – is met because, as discussed, PM-10 emissions are an issue 26 consigned by federal law to state solutions which have been applied to an intensely local context through Section 42316. As to the third factor, there is no question that City's 2 challenge to Section 42316 on Fourteenth Amendment grounds is disruptive to California's 3 approach to the problem of particulate air pollution reserved to it under the CAA. The court 4 therefore finds abstention and dismissal of City's fourth claim for relief is appropriate under 5 Burford as well as under Younger. 6 CONCLUSION AND ORDER 7 Following the dismissal with prejudice of the Federal Defendants, the court, as noted, 8 finds that the only federal claims remaining in this action are City's first, third and fourth 9 claims for relief. The court has determined that each of the three are subject to dismissal; the first on substantive grounds and the third and fourth on grounds of abstention. There being 11 no other claims arising under federal law, the court finds federal subject matter jurisdiction is 12 now lacking. The court declines to assert pendent subject matter jurisdiction over City's state 13 law claims. 14 15 THEREFORE, it is hereby ORDERED that Defendants' motion to dismiss City's 16 First Amended Complaint is hereby GRANTED. City's First Amended Complaint is hereby 17 DISMISSED in its entirety without prejudice as to all remaining Defendants. 18 19 IT IS SO ORDERED. 20 21 22 23 24 25 26 27 28
Dated: May 1, 2013
SENIOR DISTRICT JUDGE