The recent Standing Committee meeting of Inyo and Los Angeles officials left some members of the public with a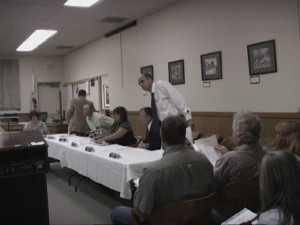 dissatisfied feeling. Many had protested the use of a off-status well for a mitigation measure, and still others said they felt the meeting was a "fraud" since no decision-making officials attended from LA.
The Long Term Water Agreement says that the Standing Committee shall include at least one member of the LA City Council, two members of the Board of Water and Power Commissioners and three staff members. Only staff members from LA showed up for the meeting in Independence.
Inyo County representatives included two Supervisors, two Water Commissioners and staff, as required by the Agreement. Supervisor Susan Cash, an alternate on the Standing Committee, said that "We as elected officials should have dialogue with other elected officials. I've been disappointed with the participation."
Cash said she hopes to get this message forward to LA. She said the Board could press for LA's participation.
Inyo County Counsel Randy Keller said he was looking into process issues for the Standing Committee. Keller said that Los Angeles can decide how to arrange their representation. He noted there, although required by the Water Agreement, there hasn't been an LA City Councilmember at Standing Committee meetings for years.
Keller also said the issue of a quorum is complicated since each side has one vote. At hearings more than 20 years ago, citizens strongly opposed that arrangement as ineffective. Keller said that his initial take is that the committee doesn't need everyone there to function. Keller did confirm that the committee operates under the Brown Act. He agreed with Supervisor Cash that "to be effective, the committee needs high level officials."
Supervisor Cash said that it's worth pushing for more participation from LA so they will have "more care and understanding for the Owens Valley."