Wife, mother, grandmother and great-grandmother. Lorrel Marian Elder was born in Susanville, CA and was raised in a small valley just above Double Check, Nevada which was a railroad spur where box cars were left for her father to fill with gunnysacks full of diatomaceous earth (lime) to be shipped to Anderson Smith Milling Company located in San Francisco, CA.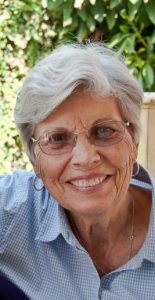 She attended a one-room grammar school located 15 miles from her home, in Flanigan, Nevada. Her family moved to Janesville, CA so Lorrel and her sister, Georgia, could attend Lassen High School in Susanville, CA. Lorrel attended one year of Junior College in Susanville then started working in a Doctors office.
She married David Roy McLaughlin on July 2, l955 and together they had six daughters. They moved to Reno, Nevada where David attended the University of Nevada Reno. After he graduated, they moved to Redding, CA where David worked as a Civil Engineer.
They moved to Bishop, CA in l966. Lorrel loved being a mother and worked at Bishop Union Elementary school as a classroom aide and later as Director of Food Services. She retired in 2002. She was active in the Church of Jesus Christ of Latter-day Saints and had many opportunities to teach the youth.
She is preceded in death by her mother and father, Caroline Peterson and George Elder, two brothers, John Thomas Elder and Farrel Dean Elder and two sisters Georgia Kingsley and Iris Morgan. She is also preceded in death by her daughter, Melanie Ann McLaughlin and husband David Roy McLaughlin.
She is survived by daughters: Lorrie Carr from Bakersfield, CA, Carrie Lloyd from Sparks, NV, Jennifer Sagers from Orem, Utah, Susan McLaughlin from SLC, Utah and Zenia McLaughlin. Grandchildren, Shannon Easton-Carr, Raymond Carr, Ryan Carr, Amanda Brown, Kristen Lloyd, Jamie Sagers and Rory Sagers and seven great-grandchildren.
Services will be held at the Church of Jesus Christ of Latter-day Saints on Friday, July 13, 2018 at 725 Keough Street, Bishop, CA at 5:30pm.