She tells parents of Autistic children to stay focused and have hope. Lori Ciccarelli of Mammoth Lakes knows about Autism. Her son Jeremy was diagnosed with it at age 7. She recently produced a video called JJ's Journey to help spread the word about how to live with Autism, And now she will appear on NBC in San Diego with her message.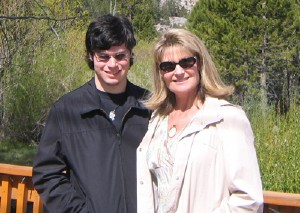 Through Lori's hard work, Jeremy now successfully handles classes in Cerro Coso Community College. Lori continues with her passion – to raise awareness of Autism. The NBC news station in San Diego will interview Lori live on their Friday 4pm newscast.
Ciccarelli planned to travel to Escondido for an Autism awareness presentation Saturday at the Adventist Academy. NBC heard about it and decided to bring Lori on for a live segment.
Ciccarelli, who has dedicated years and energy to Autism awareness sees this as a chance to reach the large San Diego market. "That's what Jeremy and I want to do." Ciccarelli said she wants help for the Autistic beyond middle school. Since the release of her film, Ciccarelli has received many emails from parents of Autistic children who need her help.
The Mammoth woman describes her life and work with her son as a story of hope. "Parents have to learn to hang in there," she said. "There are difficult years and so many parents are sad. I know where they are and tell them, don't give up. You will see results. Jeremy is a walking story of hope." Lori said that the thing that kept her focused the most is "my unconditional love for my son and wanting the best for him. All parents want independence for theire children. I am no different."