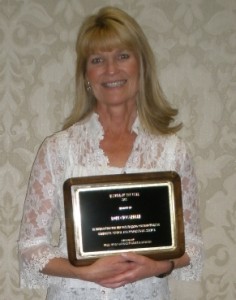 Eastern Sierra residents and many others already knew about the amazing accomplishments of Lori Ciccarelli of Mammoth Lakes. A champion for the autistic, Lori and her work with son Jeremy have appeared in film and at many presentations. Now, Lori's alumnus, Walla Walla University has honored her as Alumnae of the Year.
Nominations by fellow alumni and WWU faculty led to Lori's recognition. The University Board awarded Lori Ciccarelli for her accomplishments professionally, for her community service, and for spiritual contributions. The awards ceremony in April highlighted a photo presentation of her life and service to autism.
Dr. Loren Dickenson, Communications Professor at WWU, is quoted as saying of Lori, "She tackles life with a unique energy and spirit; she has dedicated her life to helping other families affected by autism." Professor Dickenson said Lori was "a pack of energy and had a spirit about her that the rest of us didn't quite comprehend. Today," said the Professor, "this 1981 Mass Communications graduate exudes the unique energy and spirit in her professional career and serves as a noted advocate for families of autism due to her personal experience of raising a child with autism."
Lori considers herself a "missionary for autism." In recognition of her dedication, the Mono Supervisors recently appointed Lori to a seat on the Board of Directors of the State Council for Developmental Disabilities, area 12, to represent Mono County at the State level.
On the local level, the Mammoth Lakes Firefigher's Association will hold a carwash fundraiser Saturday, June 25 to benefit Lori Ciccarelli's son, Jeremy who attends college and Sally DePerro of Mammoth Lakes. Part of the funds will go to the downed firefighter fund.