"From city halls to county courthouses, from the State house to the White House – bureaucrats control our lives.  Public servants who often try to become our masters.  People whose salaries we pay, but what goods and services do we get?  On Sierra Wave's Bureaucrat Beat, we'll report what they're up to."  That's the Bureaucrat Beat declaration of dissatisfaction, but as you may know, Bureaucrat Beat talks about so much more.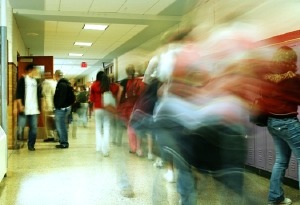 We found the take-home message in a recent Los Angeles Times article about teens who go on shooting rampages in schools.  The article says dozens of potential shootings have been averted by schoolmates who told adults about possible attacks.  The key – a school atmosphere in which kids feel they can tell.  The Times reporter wrote: "Whether students perceive the school climate as fair, democratic and cohesive is by far the most important factor in whether they share information, several studies have concluded." Important for our school leaders to consider.
That phrase "from the sublime to the ridiculous" springs to mind on another story.  Congress recently voted to strike any reference to the word "lunatic" from federal law.  The thoughts that jump to mind – why would the word "lunatic" exist in federal law, number one.  And, number two – what possessed them to focus on that right now?
Okay.  some of the officials said it was to reduce the stigma of mental illness.  Seems banking regulation speaks of  "committee of estates of lunatics."   Maybe an update was warranted.  This is all based on something called the 21st Century Language Act.  All we can say is we wish they would focus on actual banking regulation to avert another global economic meltdown.
The locally defined meltdown – the Town of Mammoth Lakes – might stay somewhat in place with a voter-approved tax.  The Town Council has said they will not sponsor one.  They only will if the public comes forward with a request.  Sales tax hike anyone?  Parcel tax increase?  Some of these things, if the people want, would avert scary cuts.
Mammoth Mayor Pro Tem Rick Wood had said at a meeting that "The public can't possibly know the amount of work that has been done to come up with this restructuring plan."  Wood said the cuts had to be done because Council was "not willing to sponsor tax increases."  He did say if constituents come forward with a tax initiative, that's another matter.  As police officers bail from an uncertain department and other services are cut, the people in Mammoth will find out what it all means.
Just in case you were wondering, China still can't leave poison out of children's toys.  U.S. Customs recently seized holiday-themed rubber ducks from China that contained too much of a dangerous chemical.  Watch out for ducks dressed in Santa outfits.  Happy Holidays!!
Lots of complaints from Los Angeles this year on how much their DWP "ratepayers" are footing the bill so Inyo and Mono can have some water.  The argument fell fairly flat all the way around.  Even in the face of an LADWP lawsuit, the State Air Board held its ground that LA has to keep cleaning up the hazardous dust on the Owens Dry Lake.  We also hear DWP may be on the verge of settlement with the Mammoth Community Water District.  LA attacked Mammoth's water rights to Mammoth Creek and accused the tiny town of stealing LA ratepayers' dollars.  Good grief.  A fight too far.
Especially when you hear that DWP approved the transfer of nearly $247 million of ratepayers' money to the LA City General Fund.  This "transfer" has gone on for as many years as we've watched the DWIP.  On top of this, it seems DWP will hand over $1.2 million over three years to help pay for the LA River Revitalization Master Plan.
How we wish they would use some of that money to clear out the tules in the much touted, restored Lower Owens River and help create recreation attractions for southern Inyo, devastated by DWP land ownership and groundwater pumping.
Back to the river.  Try paddling amidst the tule clogged stream.  CityWatch website in LA lays out lots of other City of LA raids on LADWP ratepayers' money.  Hey, wait a minute, we pay DWP too!!
Bureaucratic rule in the new year – Department of Fish and Game employees will be required to watch the film, Ghandi.  It was that spiritual/ political leader that gained India's independence from Great Britain who said, "The greatness of a nation and its moral progress can be judged by the way its animals are treated."  Google Sacramento Bee and writer Tom Knudson for an April series on Fish and Game's inhumane killing of what they call predators and what a growing number call victims and attacks on ecosystems.  Stay tuned
for more on this.
In the new year, you may see advertising on your favorite food product.  Speculation still goes on about advertising TV shows, razor blades and other products on the white, smooth surface of an egg.  Geeeeeesssshhhh!  It's bad enough watching TV news reporters with big product logos on their jackets.  Is everything for sale????  What's next – plastic surgeons advertising on bananas for skin peels?
Back to banks.  In December many of them reported near-record profits.  This, four years after a massive bail-out for the darlings who had lost their minds and became "lunatics" (we don't care if Congress won't use the word) as they placed bets on their own financial instruments that they would fail.  Headline in the LA Times in December: "U.S. banks earn $37.6 billion in third quarter."
Did you ever hear of "The Daily" on the internet?  We didn't.  Apparently many others didn't either.  Rupert Murdoch pulled the plug on his digital national newspaper, "The Daily."  Look out – the Dark Lord of media  now has his eye on the LA Times.
We really like the notes on the window of Uncle Bill's Barber Shop on Bishop's Main St.  It says both "Sensitivity Training" and "Anger Management."  Uncle Bill has a wry sense of humor and a nifty pair of scissors!
Bumper sticker viewed in the Eastern Sierra:  "The voices tell me I'm normal!"
With that, this is Benett Kessler signing off For Bureaucrat Beat where we await your word on our lives in the Eastern Sierra and beyond.