Peggy Blunt, long time Bishop resident, dies on Mule Days Weekend
Margaret "Peggy" Rose Blunt, a resident of Bishop for over 60 years, passed away on May 23rd at the age of 83.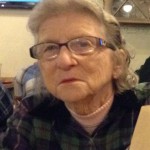 Margaret Rose Blunt, known to many as Peggy, was born as Margaret Price in 1931 in Winscombe, England. Like many youths in England at the time, Peggy did volunteer work during WWII. Upon completing her education, Peggy worked at a local paper mill. While visiting her mother at a local pub in 1951, she met a United States Air Force mechanic named Ernie Blunt who was stationed at the nearby RAF Fairfield air base. Their courtship continued for several years until Ernie proposed marriage prior to leaving the military service. Although they planned to get married in England, paperwork held things up. Peggy flew to Los Angles in 1955 shortly after Ernie had left England. They were married a month later on July 18, 1955, at St. Timothy's Episcopal Church in Bishop.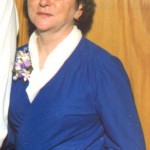 Peggy's arrival in Owens Valley in 1955 was quite a culture shock, including adjustments to the heat, food, and the very different high desert weather instead of the mild weather of England. Her first stop was the Parker Ranch, located above the current Independence Fish Hatchery. The Parkers, Ernie Blunts' grandparents, employed Ernie to take visitors on mule packing adventures into the mountains. After a couple of years in Independence, they finally settled in Bishop where they have lived ever since.
Peggy was school homeroom mother, a member of the Bishop Bottle Club and became involved with Brownies, Girl Scouts, and 4-H, especially since she was raising two daughters. Peggy's hobbies included knitting and plastic canvas, fishing, flowers, gardening, and traveling to go fishing or to see her grandkids. Her passion, however, as many Bishop residents may know, was her penchant for going to every yard sale in town. Her husband Ernie will most likely continue that tradition.
Peggy is survived by: her brother Gordon Price of England; husband Ernie Blunt of Bishop; daughters Helen Waitkus of Bishop; and Mandy McCarthy of Rohnert Park, CA; grand-daughter Kelsey McCarthy of Los Angeles; and grandsons Joseph Blunt of Wasco, Oregon and Jack McCarthy of Orange County, CA.
Peggy and Ernie were planning to celebrate their 60th Wedding Anniversary in July.
A funeral and a public celebration of life service are not planned. Instead of flowers, please consider a tax-deductible memorial donation to the American Diabetes Association.
# # #