For at least 15 years different groups have haggled over how much water should flow down Mammoth Creek. Now, as the Mammoth Water District and Caltrout negotiate, some say a collaborative solution seems close.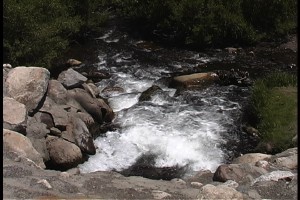 Mark Drew of Caltrout explained that Mammoth Community Water District works under a temporary flow schedule that was put in place, pending an adequate environmental impact report.
Drew said Caltrout is working very closely with the Water District to work out a flow schedule, based on the health of the fishery. "We're close to solving the issues," said Drew. He called the negotiations a "sincere collaborative effort to figure out the issues."
Ultimately the flow regime goes back to the State Water Board. Locally, the parties involved hope they can work out their differences and go to the State with a consensus.
"The town needs water," said Drew, "and the fisheries need water. We want to come up with an agreement to meet both needs. I'm very optimistic."