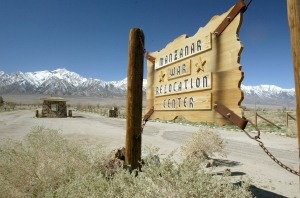 Manzanar Committee Launches Letter-Writing Campaign In Opposition To LADWP Solar Ranch Near Manzanar
LOS ANGELES — On December 5, the Manzanar Committee announced the launch of a letter-writing campaign, urging community members to send letters to the Los Angeles Department of Water and Power (LADWP) stating their opposition to the proposed Southern Owens Valley Solar Ranch, a 1,200-acre solar energy generating station that would be constructed east of the Owens River, but in a direct line of sight with the Manzanar National Historic Site, which lies to the immediate west.
Although the proposed site would generate electricity that would be delivered to LADWP customers in Los Angeles, the site's approximately one million solar panels, along with buildings, large equipment, transformers, a substation, transmission lines, and much more, would destroy a significant portion of the historic landscape surrounding Manzanar National Historic Site.
"The importance of maintaining and enhancing the physical characteristics of the Manzanar National Historic Site cannot be downplayed or overlooked," said Manzanar Committee Co-Chair Bruce Embrey. "One of the most powerful parts of Manzanar is the unobstructed view, and that many of the structures, gardens and other features of the World War II American concentration camp have not been bulldozed over or destroyed by 'development.'"
Although LADWP has supported the Manzanar Pilgrimage for many years, this proposal is yet another blot on their poor record regarding the site.
"LADWP has a long and checkered history regarding the establishment of the Manzanar National Historic Site," Embrey noted. "LADWP opposed efforts to establish a National Historic Site at Manzanar, arguing instead for a local memorial park. Even as late as 1991, they continued their efforts to prevent the establishment of a National Historic Site under the auspices of the National Park Service."
Embrey stressed that the proposed solar ranch represents new heights for LADWP's insensitivity towards Manzanar.
"The very idea that any land in or around the Manzanar National Historic Site could be used for a massive generating facility would not harm the ongoing efforts to preserve and understand the tragedy of justice that occurred there is simply beyond insensitive, and it's not just insensitive to the Japanese American community, the survivors of America's concentration camps and their families," Embrey lamented. "That gross insensitivity extends to the efforts of the National Park Service, and others who have worked so hard to bring this brief, but essential, part of American History to light."
Community members are urged to send letters to LADWP in opposition to the Southern Owens Valley Solar Farm. Letters should be addressed to:
Nadia Parker
Environmental Planning and Assessment
Los Angeles Department of Water and Power
111 North Hope Street, Room 1044
Los Angeles, California 90012-2607
Comments may also be sent via e-mail, and should be addressed to Ms. Parker at [email protected], or to Charles Holloway, at [email protected].
A form letter that can be used is available for download at: http://manzanarcommittee.files.wordpress.com/2013/12/sovsr-form-letter.pdf.
All letters and e-mails must be received by LADWP no later than 5:00 PM PST on December 20, 2013.
Those who would like to review the Draft Environmental Impact Report for the project can read it on the web at: http://www.ladwp.com/envnotices.
For more information, please call the Manzanar Committee at (323) 662-5102, or send e-mail to [email protected].