From the Lone Pine Volunteer Fire Department and Ambulance Service Board of Commissioners:
Lone Pine Volunteer Fire Department and Ambulance service would like to announce that after 46 years of service, with 26 as Chief, Leroy Kritz has retired.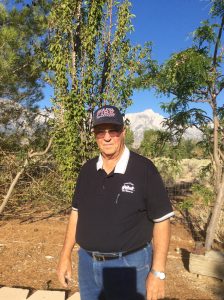 Please join the Lone Pine Volunteers on Saturday August 20th at the Lone Pine Spainhower park as we celebrate and honor Chief Kritz's years of dedicated service, and welcome new Chief Chuck Carson.
Festivities start at 1 pm and will continue until 6 pm. We will have activities for kids and emergency vehicles on display. Informational tables will be set up with LPVFD volunteers available to provide information about the capabilities of our Department as well as what it takes to become a volunteer firefighter or EMT.
Hamburgers, hot dogs and beverages will be provided by the Lone Pine Volunteer Firefighters Association, and generous local sponsors. Please help the Board of Commissioners thank the many volunteers for their service and the local businesses for their support of our volunteers.
Our volunteer firefighters and ambulance volunteers commit to hours of training drills and classes, drop what they are doing at a moment's notice, day or night, leave their families or jobs to rush off and serve the needs of our community and our visitors.