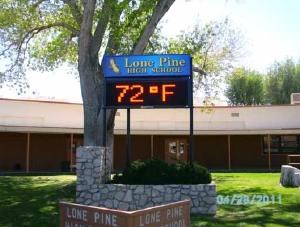 The President of the Lone Pine School Board has spoken up about what he says seems like a move by County School Superintendent Terry McAteer to "take over the Lone Pine District." McAteer responded that he and the County Board only want to help.
As we had reported, the County School Board sent a letter to Lone Pine that said the school suffers from improper governance, an unstable administration since the Superintendent/ Principal left his job, and money issues.
Lone Pine School Board President LeRoy Kritz disagrees with the County Board. He said that first of all, "The County Board approves our budget every year and we have not had any problems." Kritz also said that it is "well known that we have one board member that oversteps her role and has given much of the information to the County Superintendent." Kritz said in his four years on the board neither the County Superintendent nor the County School Board Chairman have ever attended a Lone Pine Board meeting.
The County Board had said Kritz often acted unilaterally, but Kritz said there were no examples provided and none of the officials had ever attended a board meeting. Said Kritz, "This brings me to wonder where they were getting their information."
Kritz went on to say that the District "does not have an unstable administration." He said Superintendent Victor Hopper was given a 4-year contract but chose to move on to better his career in a large district. Kritz said the elementary principal gave her notice in February.
As for concerns expressed by the County Board that there are impending legal issues with the Ridgecrest school district over Coso Geothermal tax money, Kritz said, "That is a total lie." Mr. Hopper agreed and said he had continued to have positive conversations over division of the tax money.
The County School Board letter asks Kritz to step down as Board President, wants Lone Pine administration to attend county-wide meetings and social functions, wants to take over the Coso tax discussions, and wants to make former County Superintendent George Lozito the Interim Superintendent for Lone PIne.
Kritz said he did offer to step down as Board President if, he said, "that would meet the requirement to get the county funds for Lone Pine children." The County Schools Office has provided funds to many schools for special projects. Lone Pine identified around $360,000 for renovation of the middle school science center, rock work for a sign, an outdoor stage, expansion of the snack shack and other needs.
At this point, Kritz said, the Lone Pine Board feels they will send the money back to the County Board. He said the County Superintendent gave Bishop $300,000 with no strings attached. For Lone Pine, Kritz said, "There are a lot of strings."
In a conversation with Sierra Wave Media, County Superintendent McAteer repeated the County Board's concerns and said it's not about taking over the district, although he did say under State law, if the situation worsens, it would be his duty to step in. He said there is currently little prospect for Lone Pine to hire a new Superintendent since most candidates already have jobs and are moving into their positions for school to start in the fall. He said George Lozito is well liked with experience, and he could help Lone Pine get through the summer.
McAteer maintains that there is a legal dispute over the Coso tax money, that Lone Pine is deficit spending, and that there is a contentious Board. He said, "Maybe they don't know they are in trouble. There is no interest in taking over the District." He said his goal is to get through a difficult situation. Said McAteer, "We wanted to come in, help, and leave."
In a new letter to the Lone Pine Board, McAteer said the County Board and he are "sincerely sorry to learn of your rejection of our thoughtful proposal." He said they stand by their proposal since it is their duty to help school districts under State law. McAteer lists eight new projects the County Office will carry out and 22 programs they will continue.