Inyo Sheriff Deputies have arrested a Lone Pine resident on felony rape charges.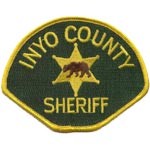 Carma Roper with the Sheriffs Department reports that 28-year-old Bernardo Ruiz Castro was arrested Monday and is being held in the Inyo County Jail on felony rape charges. Roper has few details to release to the public, but does say that the alleged rape occurred early in the evening Sunday, August 2nd. The victim is listed as a 17-year-old juvenile.
The Inyo Sheriffs Department officials list bail at $250,000.