Some time in the early morning hours Sunday, 47-year-old Phillip Royal, Lone Pine's Postmaster, sped into an elk on the Lone Pine Narrow Gauge Rd. He died from the collision. It was his birthday.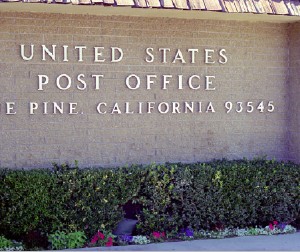 Colleagues at the Lone Pine Post Office had birthday gifts to give Royal on Monday. They reminisced about Royal's many years at the post office.
The CHP said that it was about 6:35 Sunday morning when they received a report of an accident on the Narrow Gauge Rd. north and east of Lone Pine. Officers said they determined that Phillip Royal was riding his 2002 Yamaha FZ1 motorcycle eastbound at a high rate of speed.
The CHP said that about half a mile east of the highway, an elk walked out into Royal's path. Officers said that Mr. Royal could not avoid the elk and hit it. Royal and his motorcycle landed in the westbound lane. He had sustained fatal injuries.
Officers said the actual wreck occurred some time between 11 pm Saturday and 6:30 Sunday morning. They need information. If you have any, call 760-872-5960. The collision remains under investigation.
Phillip Royal is survived by his parents in Tehachapi, daughters in Lone Pine and Bakersfield and a son in Bakersfield. Funeral services will take place in Tehachapi with services later in Lone Pine.
Royal had served as Postmaster for a year or two on top of some 16 or more years at the post office.