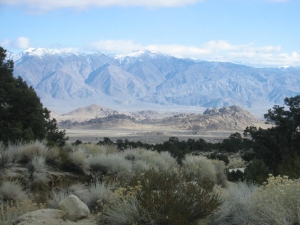 Letter to the Editor… Mongo Ignacio, Los Angeles, Ca.
Dear Editor, I write you with an unusual request. I wish to seek comment on a reemerging phenomenon that few valley people I speak with are aware of; The Lone Pine Mountain Devil. On a recent visit to Independence, I noticed Native basket decorated with a bat like winged creature. I had been exposed to Lone Pine Devil stories through reading folk lore yet never through speaking with a local. The basket struck me as a sort of historic document and rekindled my interest.
I wonder if any of your readers know of the stories or have seen this Devil themselves. The folk lore claims that The Mountain Devil is a protector of the environment so I assume it must be extinct as I never read reports of unexplained valley carnage. In any case, the stories make for a very interesting read. They range from completely absurd to historical 19th century accounts of attacks on settlers. People who are knowledgeable about extinct species make strong comparisons to the Sinornithosaurus milleni, The isolated nature of the region somehow gives credibility to notion that these creatures could have survived extinction here. Here are some links on the topic that you may find interesting. http://en.wikipedia.org/wiki/Lone_Pine,_California#Lone_Pine_Mountain_Devil_folklorehttp://cryptidz.wikia.com/wiki/Lone_Pine_Mountain_Devil Any comments or verbal history appreciated.
Best Regards, MTI