Submitted by Luke Sullivan, Lone Pine FFA Reporter
Indianapolis October 26, 2018 –Brenda Lacey, the FFA Advisor of the Lone Pine High School FFA Chapter, was recently awarded the Honorary American FFA Degree at the 2018 National Convention & Expo during an onstage ceremony on Friday, Oct. 26 in Indianapolis, Indiana. Mrs. Lacey received a certificate and medal, and their name will be permanently recorded at the National FFA Center.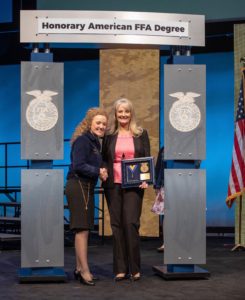 This award is given to those who advance agricultural education and FFA through outstanding personal commitment. The National FFA Organization works to enhance the lives of youth through agricultural education. Without the efforts of highly dedicated individuals, thousands of young people would not be able to achieve the success that, in turn, contributes directly to the overall well being of the nation.
Also receiving National FFA Awards was Katie Lacey, a 2016 Lone Pine High Graduate who is currently a junior at Oklahoma State University studying Agricultural Business/Pre-Law. Katie was recognized as the California FFA Star American Farmer receiving a Gold Medal along with her American FFA Degree.
Tinh LeTrung a 2017 Lone Pine High Graduate a sophomore at Cerro Coso Community College received his American FFA Degree.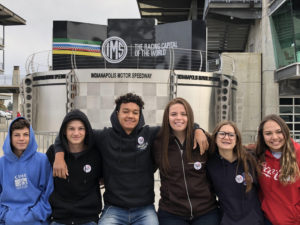 As the highest degree achievable in the National FFA Organization, the American FFA degree shows an FFA member's dedication to his or her chapter and state FFA association. American FFA Degree recipients show promise for the future and have gone above and beyond to achieve excellence.
Recipients received a certificate and the American FFA Degree key in honor of their accomplishments and dedication to FFA.
The Lone Pine FFA Chapter had six current members in attendance at the 91st National FFA Convention and Expo, which drew a record 69,944 attendees to Indianapolis for this year's themed convention "Just One".
Jessica McGuire, Kaili Hykes, Jaye Eaton, Luke Sullivan, Daniel Miller, and Fernando Rodriguez were in attendance for all of the leadership sessions, keynote speakers, and the National FFA Expo. In addition the students spent time at the Indianapolis Motor Speedway, toured Purdue University, and explored the beautiful city of Indianapolis.
The National FFA Organization provides leadership, personal growth and career success training through agricultural education to 669,989 student members who belong to one of 8,630 local FFA chapters throughout the U.S., Puerto Rico and the U.S. Bergin Islands.
The national FFA Organization is the premier youth organization dedicated to preparing members for leadership and careers in the science, business and technology of agriculture.
FFA members are the future food industry's premier human capital, and they are all driven by the organization's foundational motto: Learning to Do, Doing to Learn, Earning to Live, Living to Serve.