By Deb Murphy
A grand re-opening of the Lone Pine Library is scheduled for Saturday, complete with free food, give-aways, a used book sale and entertainment.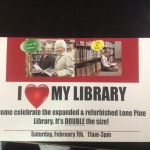 The library has been expanded into the old Sheriff's substation, doubling its size and includes new flooring, lighting, furniture and shelving funded through a family foundation, and new computers. Library Director Nancy Masters kept with the late 1920's theme of the substation, right down to a new tin ceiling.
Both the Lone Pine and Bishop libraries make-overs are the result of a deal cut between Inyo County and Terry McAteer, County Superintendent of Schools. "I told the county, if they would adjust the hours to make the library more accessible to students, I would refurbish both libraries," McAteer said. The county went for the deal.
Lone Pine's library will be open Tuesdays and Thursdays from 2-7 p.m., Wednesday and Friday from 10 a.m.-noon and 1-5 p.m. and Saturday from 10 a.m.-4 p.m.
"I hope everybody comes by to check it out," McAteer said. The celebration runs from 11 a.m. to 3 p.m. Entertainment will be provided by Sandy and the High Country. A children's story time is scheduled for 1 p.m.