– Information from press release
A
Tesla
's "Commissoning" team will be on location, at the new
Tesla
Supercharging Station located at The Lone Pine Film History Museum,
Tuesday, Jan. 27, 
from approximately
9:00AM to 12:00 Noon
to run tests and open the Charging facility to
Tesla
drivers along Highway 395.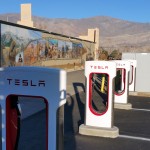 Additional stations are under construction at Inyokern and Mojave. Future stations are in negotiations so
Tesla
owners can travel the full length of 395.A
Tesla
Model S will be at the location for testing purposes through the morning and for the public to see after
noon
.
###
Lone Pine and Highway 395 Welcome Tesla Supercharger Station January 27, 2015 Lone Pine will open one of Highway 395's first Tesla Supercharger stations which is located at the Lone Pine Film History Museum just South of Lone Pine, CA.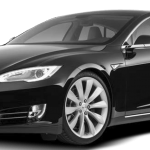 Tesla drivers on Highway 395 can now recharge for free while visiting one of America's finest museums dedicated exclusively to the heritage of Western "Cowboy" film making and then enjoy the tastes of Lone Pine's many eateries.
Tesla's business model includes building a network of fast charging stations — faster than any other electric vehicle manufacturer — along the major interstates around the country to enable Tesla owners to travel from city to city. Tesla offers the charging services for free, making the Superchargers a gathering place for members of the Tesla owner's community.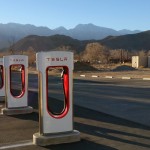 Landing a Tesla Supercharging station in Lone Pine is just one of the many advantages of being located along Highway 395. While charging your car – you can visit the Lone Pine Film History Museum and the city of Lone Pine. Located at the base to the Eastern Sierra's highest point in the continental USA, Mt. Whitney – and the Alabama Hills, whose unique geological formations brought Hollywood studios to the area to shoot "Cowboy" films, are not to be missed.
Filming started in 1919 with a full-length feature film, The Roundup starring Fatty Arbuckle. The city is also an access location for Death Valley, The Ancient Bristlecone Forest, Eureka Sand Dunes and many other interesting American heritage areas along Highway 395. For more information on the new Tesla Supercharging Station and Lone Pine Film History Museum please see http://lonepinefilmhistorymuseum.org/Tesla or for Lone Pine – The Lone Pine Chamber of Commerce Website.