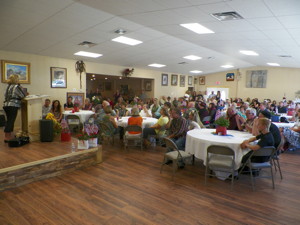 by Charles James
Over two hundred admirers, friends and family, attended the final community farewell to Lone Pine resident and philanthropist Dave Haas. The 78 year-old Haas was honored by the Inyo Register as its 2012 Citizen of the Year just weeks before his death for his work in restoring an old building on Main Street into a showcase community building and his many contributions supporting the community from beautification projects to supporting youth programs. It was fitting that the final farewell took place in the building that he insisted on simply calling "The Building".
Jaque Hickman spoke to those present about how she and her husband Art had known Haas for over 40 years and what a generous, even if somewhat cranky, man that he could be; yet always underneath the tough exterior, was a kind-hearted man that believed in doing everything he could for his community.  Fortunately for the community of Lone Pine, the last ten years of his life, Haas turned his attention to the needs of the town and its people, often donating money to those in need and support many of the community's programs, especially those involving youth.
As many that spoke of Haas noted− he was one of a kind− a unique individual, an increasing rarity in a world that seems to want conformity and comfort. It was noted that the world was a better place for Dave Haas in it…and what better can be said of any man or woman at the end of their life?