Lola (Arnold) Hubbard passed away unexpectedly of heart failure at the age of 93, leaving her loved ones and friends deeply saddened. She always greeted the world with a smile…and was a gifted story teller of many family historical events that she passed down to future generations.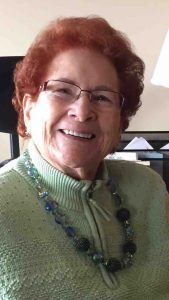 Lola was born in a snowstorm, in Ackerman, CO. The doctor was unable to get through the snow so her father delivered her in their little farmhouse.
Married to her true love at 21, Oscar Hubbard, Lola moved to Tiger, AZ where they had three of their five children. The younger ones were born in Bishop at Northern Inyo Hospital in the mid 1950's. Lola became a nurse at the same hospital and cared for many of the local residents until her retirement three decades later.
Lola was very social and active in her church, and sang with the ladies group "Sweet Adeline's" for many of the 50 years she lived in Bishop. She is preceded in death by her loving Husband Oscar Hubbard. Also in the grace of the lord are her loving daughter, Lorraine Avitia, brother Harlan and sister Vivian Arnold.
Lola is survived by her other four children, Ron, Norma, William and Nadine Hubbard. She will be greatly missed by all her children, grandchildren and great grandchildren.
There will be a rosary for Lola at "Our Lady of Perpetual Help Catholic Church this Monday, April 25th, at 6:00pm. A mass to be said in her honor is scheduled for the following day, April 26th, at 11:00am also at the church. A procession to the grave site on East Line Street to follow.
Also thank you to all the folks at Cascades of the Sierra in Sparks, where she resided for several years amidst loving caregivers and friends.
In lieu of flowers, please make a donation in her honor at "Our Lady of Perpetual Help" Church located in Bishop.