Lois Gilliland 1928-2017
Lois M. Gilliland, age 88, of Bishop California, passed away peacefully on March 8, 2017 at the Bishop Care Center. Lois was born in May of 1928 in Stratford, New Jersey to Edwin and Gladys Harris.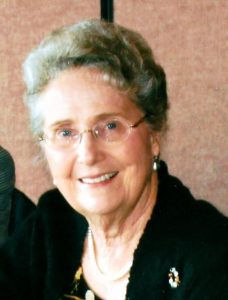 The first eight years of her life were spent with them in the Belgian Congo where her father was a missionary doctor. She spent the next nine years of her young life in two different boarding schools for missionary children while her parents served two terms in Africa. In 1950, Lois graduated from Houghton College in upstate New York where she met and fell in love with Dean Gilliland. They were married soon after college and enjoyed nearly 62 years together before Dean's death in 2013. Lois spent almost 25 years of her life in Nigeria as a Methodist missionary's wife where she raised her family of five children. She learned the Hausa language well enough to barter in the marketplace, cooked on a wood stove in the early years, and instilled in her children a respect and curiosity for nature and other cultures.
When she and Dean moved to Pasadena, California in 1978, she decided it was time to go back to school. She received her Master's Degree in Clinical Psychology and began her private practice in her mid-fifties. During this time she touched numerous lives and continued to do so even after she retired and moved with Dean to Pilgrim Place in Claremont, California.
She led both a grief group and a grandparent's group there until her first stroke in 2012. Following Dean's death, Lois moved to Bishop, California to be closer to immediate family where she was able to comfortably live out the rest of her days. She will be deeply missed by her children and grandchildren, and as we mourn her passing, we celebrate in the fact that she is safely in the arms of her Loving Savior and re-united with the husband she longed to be with.
Lois is survived by her children: Dean Jr. (spouse: Linda Tobash), David, Dale, Barbara Jo (spouse: Scott Lasley) and Doug as well as her grandchildren: Lois, Ross, Hannah, and Jeremy. Graveside service will be private and at a later date.
The family of Lois Gilliland, knowing of her lifelong love of nature, and numerous trips to the Arboretum, in Arcadia, California, suggests that in lieu of flowers you make a charitable donation there in her memory.
Online: www.arboretum.org
or by mail: LA Arboretum Foundation, 301 N. Baldwin Ave. Arcadia, CA 91007-2697. Check made to LAAF, Lois Gilliland in memo line. Thank you.