Bishop Police Department press release
Bishop held a community block party in support of National Night Out on Tuesday, August 7, 208. This was an inaugural event for our area, as NNO has been in place for over 33 years. The Bishop Police Department hosted neighboring agencies and businesses as we invited our citizens to come and get to know the officers and staff of BPD, enjoy some BBQ and desserts and have some fun.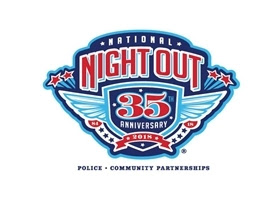 National Night Out is an annual community-building campaign that promotes police-community partnerships and neighborhood camaraderie to make our neighborhoods safer, more caring places to live. National Night Out enhances the relationship between neighbors and law enforcement while bringing back a true sense of community. Furthermore, it provides a great opportunity to bring police and neighbors together under positive circumstances.
Millions of neighbors take part in National Night Out across thousands of communities from all fifty states, U.S. territories and military bases worldwide on the first Tuesday in August (Texas celebrates on the first Tuesday in October). Neighborhoods host block parties, festivals, parades, cookouts and various other community events with safety demonstrations, seminars, youth events, visits from emergency personnel, exhibits and much, much more.
We were thrilled with the turnout of individuals and families from all over the area who attended our first NNO. We truly felt a sense of community, and hope that you did as well.
National Night Out 2018 in Bishop was a great success, and we'd like to take the time to thank some individuals and businesses that made it possible:
BPD Dispatcher Molly Lawrence and BPD Lieutenant Josh Ellsworth for the planning involved in implementing NNO in Bishop; B&P Distributing for donating 300 hot dogs;
Smart & Final for donating hot dog buns and hot dog boats; Bishop & Mammoth Vons for donating hot dog buns, condiments and candy; Great Basin Bakers for donating cookies and other baked treats; Hing's Donuts for donating all those donuts; BPD Key Partners, Wives Behind the Badge for baking so many trays of cookies; McDonald's of Bishop for donating iced tea & Lemonade;
Upper Crust Pizza for donating a $25.00 Gift Certificate that was part of our free raffle box Crystal Geyser for donating 300 bottles of water; Bishop Welding for donating a tank of helium; Apine Signs for creating our BPD logo in mini size for the kids car; Galen and Lita Norsworthy along with Adam & Katrina Otten for donating the use of their sound system. CHP Officer Adam Otten also volunteered to DJ the event; Holly and Larry Mullanix for donating space to advertise NNO in the Bishop Twin Movie Theater; Jesse Steele for donating his time to produce the advertisement for the Bishop Twin Movie Theater; Chuck Kilpatrick and April Leeson at the Bishop Chamber of Commerce for forwarding flyers to their mailing lists and posting event information on their website; Don Womack with Bishop Fire and LA Department of Water & Power for allowing us to borrow the DWP BBQ Mike Chacanaca with the Inyo Register for covering the event.
The following individuals volunteered their time for the event:
Joe and Marcia Pecsi, Larry Cox – both men are retired BPD and current Bishop Lyons Club members who BBQ'd for the event; Stan Smith with the Bishop Lyons Club was a great help in communicating with other club members and references;
BPD Officer Brian Hohenstein and BPD Dispatcher Karla Jimenez for working the event on their days off; BPD Officer Robin Henry made and donated the raffle box.
Jim, Michelle & Olivia (BPD Dispatcher) Hartshorn all donated time and materials to make the 911 For Kids booth and the mini police car;
BPD Key Partners – Wives Behind the Badge members Dawn Stec and Erin Gladding assisted with decorations and inflated balloons; City of Bishop Camp Counselors Emily Tozer and Tyler Banta volunteered their time to decorate and man the raffle ticket and welcome table; BPD Staff Members Pam Galvin, Victoria Toy, Lt. Ellsworth and Jessica Scida all donated time after hours to help during the event; Bishop Fire's Bruce and Andy Routt, Pat O'Neil for their help with setting up the use of tables and chairs; Jim Reynolds and Warren Boling helped with set up and clean up;
Brian and Sarah Simpson, Chief and Dawn Stec, BPD Officer Hoodman and Julie Weier for allowing us to borrow their games for the event.
The following agencies or entities for their participation:
Bishop Police Department, Inyo County Sheriff's Department, the Inyo/Mono Special Enforcement Division (SED), Inyo County Probation Department, California Highway Patrol, California Department of Transportation, Cerro Coso Community College, and the Bishop Fire Department.
We are already looking forward to National Night Out in 2019!