Inyo-Mono Public Health Officer Dr. Rick Johnson issued a bulletin about the recall of Nestle toll house prepackaged, refrigerated cookie dough. Dr. Johnson said that the FDA has warned consumers not to eat the dough or make cookies.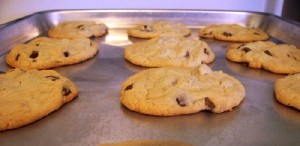 The FDA advised that consumers should not eat any varieties of prepackaged Nestle toll house cookie dough due to the risk of contamination with E. coli. The FDA advised that if consumers have this dough or cookie dough products in their homes, they should throw them away. Cooking the dough doesnt help. The FDA said that cooking the dough is not recommended because consumers might get the bacteria on their hands and on other cooking surfaces.
Grocery stores and restaurants have been advised not to sell or serve the cookie dough products that are subject to recall. Dr. Johnsons press release says that Nestle USA is fully cooperating with the ongoing investigation by the FDA and CDC. The warning is based on an ongoing epidemiological study conducted by the CDC and several state and local health departments.
Individuals who have recently eaten the prepackaged, refrigerated Toll House cookie dough and have experienced symptoms of E. coli (abdominal cramping, vomiting and a diarrheal illness) should contact their doctor or health care provider immediately.
A list of grocery chains selling the recalled dough was released by the California Department of Public Health. That list includes Vons stores and Smart and Final.