Called the biggest U.S. bank failure ever, the demise of Washington Mutual was met with a take-over by federal regulators and an immediate sale to JP Morgan Chase & Company for $1.9 billion, according to news reports. Locally, management made it clear that customers have nothing to fear – their accounts are intact.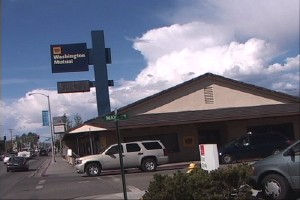 It's a different story for anyone who owned shares of WaMu. These shares lost an estimated 88% of their value over the past year. The bank suffered what have been described as huge losses in the mortgage loan and credit card businesses.
News reports say that nervous customers had withdrawn $16.5 billion of their money from WaMu in the last 10 days, leading to fears of a full collapse. That's why the feds stepped in.
The local WaMu branch prepared a flier for customers which basically said that all deposits remain insured by the FDIC and that customers can continue to bank as usual. For 6 months, accounts in both JP Morgan Chase and WaMu will remain separately insured.
So, in spite of the take-over at Washington Mutual, business as usual except for those who owned shares of WaMu.