With a surge of H1N1 swine flu is making its way through the Eastern Sierra, many sick adults are staying home from work, and sick children arent able to go to school.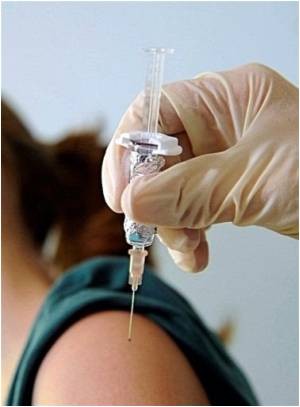 This surge has arrived just as the first doses of the newly created H1N1 vaccine have arrived in the Eastern Sierra. More vaccine is expected to arrive in the next few weeks, but for now health officials have set priorities on who should receive the vaccine.
So far, otherwise healthy people who come down with this flu are able to recover on their own, but others are at higher risk for complications. Inyo Mono Health Officer Dr. Rick Johnson reports that the first priorities for the vaccine are families with a baby who is under six months, followed by pregnant women, and health care workers.
Babies under six months of age cant be vaccinated but are at risk for complications from the H1N1. Dr. Johnson says that the idea is to create a protective shield, around the babies by vaccinating the parents, siblings, grandparents and others who come in regular contact with the baby.
If you have a baby under six months of age and are interested in the H1N1 vaccine call the local health departments in Inyo or Mono counties.
This week has also shown an uptick in the number of possible H1N1 swine flu cases in the local schools. Dr. Johnson reports that anecdotal evidence shows that the number of students absent from school with flu like symptoms is up in many Eastern Sierra schools.
Dr. Johnson says that so far he has not seen any unusual numbers of absent students in Mammoth, but he has heard anecdotal evidence of an increase in Bridgeport and Coleville. Many students have been absent with the flu in the Bishop Schools, but so far the number in Bishop is running a little over 10% absent. Parents of Round Valley School students are expected to receive notification that 30% of the students were absent on one day this week.
The absenteeism shows two things, Dr. Johnson explained, that there is increased illness in the Eastern Sierra and that parents are complying with the request of health officials to keep their kids home if the child becomes sick. Thats a good thing, Dr. Johnson says.
Most people who have come down with this flu get over the sickness on their own, but Inyo Mono Health Officer Dr. Rick Johnson reports that statewide 3051 people have been hospitalized with the H1N1. 688 of these people were sent to the Intensive Care Unit, and 219 people have died. Dr. Johnson reports that California has been averaging 12-15 deaths a week among the 200-250 hospitalizations a week.
The highest mortality has been among people aged 50-64. Dr. Johnson explained that people in this age group dont get sick as often, but when they do this age group often has other medical conditions.
Dr. Johnson says, all evidence still points to a low case fatality ratio, but the difference between this and seasonal flu is not necessarily how many, but who the young. The highest incidence for the H1N1 swine flu has been in infants less than 12 months of age.
With little seasonal flu yet, most flu like symptoms are being chalked up to the H1N1 swine flu. Here in the Eastern Sierra, Dr. Johnson reports that the number of people hospitalized with pneumonia/and or flu like symptoms is less than six, at last word.