The problem of overweight and even obese children and teens has grown so serious that health officials called September the first ever Childhood Obesity Awareness month. Local school officials have taken steps to deal with this growing health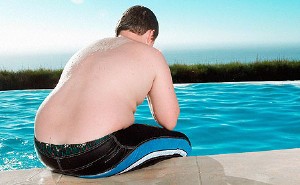 issue.
As we reported last week, Inyo-Mono Public Health Officer Dr. Rick Johnson revealed statistics that half of all children are overweight or obese. Even children as young as two-year-olds are too fat. Health officials have called the problem an epidemic.
At Mammoth schools, Superintendent Rich Boccia, said that they have embraced the screen turn-off concept for all the schools – a way to get kids up and active.
To underscore the growing health problems among kids, the California legislature will consider a bill that would require schools to provide free water to discourage the drinking of sugar-laden soft drinks.
Superintendent Boccia said this was a good idea. He also said that good eating habits start at home.
In Bishop, Superintendent Barry Simpson said the schools have a poster campaign underway that says re-think your drink. This too supports the idea that high calories soft drinks are not the best choice for kids.
Simpson said Bishop Schools will also hire a consultant to look at school lunches for nutritional value. He said that a small facility at the high school that they're calling the Bronco Caf has started to offer healthy snacks and other food on campus.