By Deb Murphy
Members of nine Eastern Sierra law enforcement agencies gathered for a two-day course in Active Shooter Training at Mammoth Middle School this week—something law enforcement has to be prepared for while hoping the training never has to be used.
The agencies included California Highway Patrol, Mammoth Police Department, Mono County Sheriff's Department, a couple of Bishop PD officers who missed Inyo County's training earlier this year, Department of Fish and Game Wardens as well as area paramedics.
The protocols have changed since Columbine nearly 20 years ago. According to CHP Sergeant Brad deGeus, responders secured the perimeter of the Littleton, Colorado high school and waited for SWAT teams to enter the building. That doesn't happen anymore. "Now we go in and move to the sound of gun fire," he said.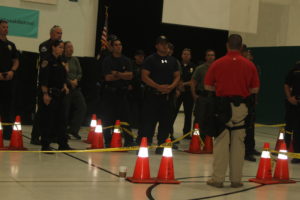 DeGeus was stationed near Ridgecrest in 2007 and responded to an active shooter at Ridgecrest Medical Plaza. That was the same year CHP started its training program.
Multi-agency training is a necessity in rural areas. The responders will probably at least know of each other, but joint training exercises put them all on the same page. The officers know the same tactics and follow the same protocols. They learn to move together.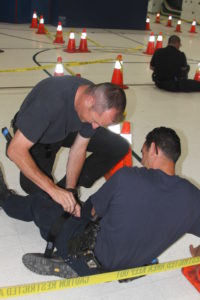 Wednesday morning's session was an example. The exercise involved teams clearing simulated rooms roped off in the school's gymnasium. Instructors, most with military Special Forces training, talked the officers through the initial run-through. After an hour, the teams moved in sync.
The only glitch was the transition to a simulated medical emergency initiated by "shots fired." Participants were all shot in the leg and had to apply tourniquets. According to the training officer, they all would have been in serious trouble.