Disturbing global issues aside, what do we have to face locally in the new year?
Inyo County continues to face it's relationship with the City of Los Angeles DWP. At year's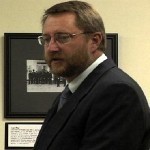 end, Water Director Tom Brooks was mysteriously forced out by the Supervisors, apparently. The Board only said that they had decided to "change the direction of the water department administration."
The two sides have still no definite way to control groundwater pumping. They are expected to keep talking. If the droughts keep coming, worries will follow.
Inyo officials have made no major changes in how they conduct government and money continues to shrink. Hard decisions ahead. For voters, too. Three seats on the Board of Supervisors up for re-election.
In Mammoth Lakes, the down turn in development and real estate continues and so does the angst over bear management. A special investigator and attorney was supposed to complete his report on the police chief and bear man Steve Searles.
New local taxes to come? Officials may ask for this, particularly in Mammoth Lakes.
Mammoth may seriously restrict outdoor watering, year round. Inyo may try to ratchet up water rates for southern Inyo. In the burned areas of Big Pine and Independence – dust, an ongoing problem.
The good news – we still have great scenery, relatively low crime and room to stretch.