The health care scene in the Eastern Sierra has driven some to painful choices between prescription drugs or food. An estimted 3300 remain uninsured here. These difficult facts surfaced during a recent health care forum presented by the League of Women Voters. Statistics show nationwide issues with a high number of uninsured, growing costs and a shortage of doctors. The Eastern Sierra lives with the same issues, according to panel members.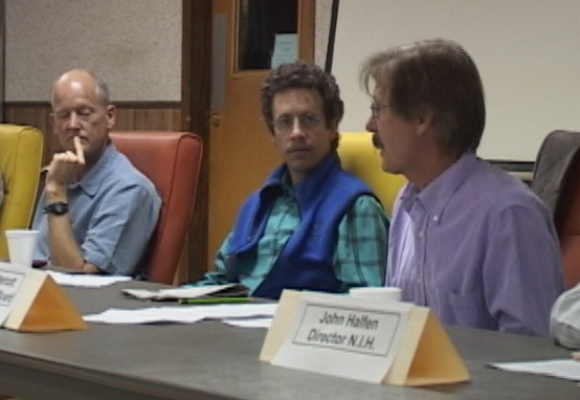 The five person panel of local health officials answered questions and discussed the realities of what they see in their day to day work in a system seen by many to be very flawed.
On the panel were Pharmacist Jeff Brown from Dwaynes, Dr. Thomas Boo and Dr. Stacey Brown of the Rural Health Clinic. On the administration side, were Pete Watercott, the chair of the Northern Inyo Hospital Board and Northern Inyo Hospital Administrator John Halfen.
With a complicated and often confusing topic such as health care in the United States, there were many areas of discussion during the panel. If an overall theme could be taken from the nights conversation it was that drug costs have skyrocketed. The panel had little love for Medicare and Medicaid/MediCal and even less love for the private insurance companies.
The biggest problems with health care in Inyo County are staffing the hospitals and affordability according to panel members. Pharmacist Jeff Brown explained that advertising for drugs by pharmaceutical companies has driven the costs of medications through the roof, add in Medicare Part D, which he says was written by the pharmaceutical industry, and Brown said that he has seen people forced to chose between buying food and paying for their prescriptions.
Dr. Thomas Boo, with the rural health clinic, spoke of the uninsured in Inyo County, estimated at 3300 people. He said the current system is a mess and frustrating to work in.
Dr. Stacey Brown, John Halfen and Pete Watercott, all spoke on the difficulty of finding doctors, nurses, and staff to work in this isolated and rural area. Its also difficult to find doctors who are willing to work 24/7 as is required in a rural hospital. The creation of the Rural Health Clinic, recruitment of nurses who dont want to live in LA, and working on homegrown interest for kids in the medical industry were seen as possible solutions.
When asked if they thought Medicare were a bad government program, none on the panel said that it was. Pharmacist Jeff Brown said that Medicare treats the pharmacy better than most insurance companies. He has recently been having trouble with payments by an insurance company for flu shots.
At one point in the evening Hospital Administrator Halfen explained that about 55% of the patients at Northern Inyo are paid for by MediCal or Medicare. The insurance companies then try to negotiate down to the price that Medicare and MediCal pay, he explained.
When it comes to the legislation to change health insurance currently up for discussion and horse trading in Washington, the panel members appeared to be taking a wait and see approach.