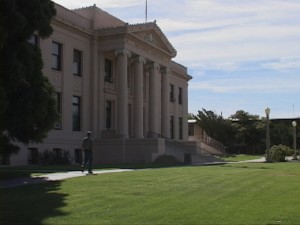 Ever wonder how much money those people at your courthouse or city hall take home? Now a statewide website exists with compensation reports for all California counties and towns.
State Controller John Chiang launched this site. It's a new data base as reported to the Controller's Office by the individual cities and counties. Controller Chiang said that his office presents this project as only the first phase in its effort to make salary and wage data more accessible.
This data base finds even greater relevancy considering the news out of Bell, CA and other cities that officials have, in some cases, grossly overspent taxpayer dollars or raised their salaries beyond reason.
The data base shows minimum and maximum annual salaries with pension payment details. The data base also lists benefits. For example, an Inyo Supervisor makes an annual salary of $49,776 with health benefits of nearly $12,000. The County Administrator, $141,444 with nearly $12,000 in benefits.
A Mono County Supervisor makes $47,280 per year with $21,575 in benefits. The Mono County Administrator – $170,316 in salary and nearly $22,000 in benefits. In the Town of Mammoth Town Council members make $3600 per year with no health benefits. The Town Manager makes $198,266 with nearly $18,000 in health benefits.
It's all in there at lgcr.sco.ca.gov. The City of Bishop does not yet have its data into the State Controller but did post its salary information on the City of Bishop website. They will send their information to the Controller so that Bishop's data will later be included.