The deadline to nominate favorite campsites, businesses and events for inclusion on the Sierra Nevada Geotourism Map is fast approaching.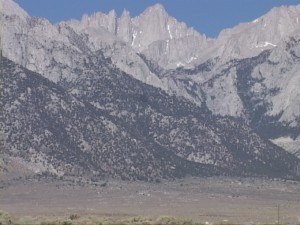 The Sierra Nevada Conservancy, the Sierra Business Council, and the National Geographic Society have partnered to create a website designed to promote tourism in the Sierra Nevada Region. On this web site is a map that shows links to favorite hikes, attractions, businesses, restaurants, events, food or historic sites. The catch phrase is geo-tourism, which appears to be regular tourism, except with a National Geographic twist.
Anyone can write in a nomination, and local officials have pushed to make sure that the Eastern Sierra is not left out when it comes to this marketing tool. So far we have been well represented. The banners on the Sierra Nevada Geotourism website depict Bear Creek Spire in the Rock Creek area of Inyo and Mono County. Coyote Flat above Bishop is also a banner on the website.
When it comes to the actual map, numerous local nominations have made the cut. The ever popular Mt. Whitney makes the cut for outdoor adventures as does DJs Snowmobiles in Mammoth.
For events, Millpond Music Festival, the Mono Lake Bird Chataqua, Mule Days, and others are linked on the interactive map.
Geologic sites like Hot Creek, Benton Hot Springs and the Horsehoe Lake Tree kill are on the map. Restaurants and hotels have links on the map, as do health and wellness sites.
Most of our local communities are listed on the map, but so far Independence looks like a blank spot.
Fortunately there is still over a week to nominate favorite spots for inclusion on this map. To view the project or to make a submission, go to the website http://www.sierranevadageotourism.org. .