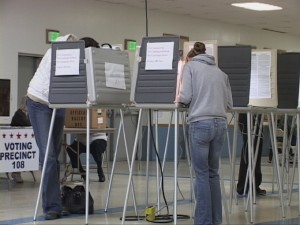 A re-cap of last week's election shows two new supervisors in Mono County and one run-off election.  In Inyo, one new supervisor and two run-off elections to come.  Incumbents mostly got the boot.
The final results in Inyo County show Jeff Griffiths as the new supervisor in Bishop's District 2.  Griffiths gained 434 votes and 53% of the vote.  Incumbent Susan Cash lost with 270 votes and candidate Russ Aldridge with 112 votes.
In District 4, incumbent Marty Fortney will have to square off with challenger Mark Tillemans of Big Pine.  Fortney gathered 432 votes or 40% of the vote to Tillemans' 356 votes which was 33%.  Candidate Nina Weisman had 263 votes and Chris Dangwillo, 42 votes.
In District 5, Jim Gentry and Matt Kingsley will face a run-off election in November.  Kingsley had the most votes at 398 followed by Gentry's 279 votes.  Supervisor Richard Cervantes had 179 votes.
In Mono County the semi-official results show District 2 where Fred Stump beat Supervisor Hap Hazard.  Stump gained 476 votes to Hazard's 389. In District 3, Tim Alpers soundly beat Supervisor Vikki Bauer – 449 to 216. In District 4, Tim Fesko and Bob Peters will compete in a November run-off.  Peters had 296 votes, Fesko, 272 and Jan Huggans, 121.
New supervisors take office in January of 2013.