Local law enforcement brace for state officials to make budget cuts. This week, State Bureau of Narcotic special agents protested closure of 51 state task forces. Can local drug task force teams be far behind?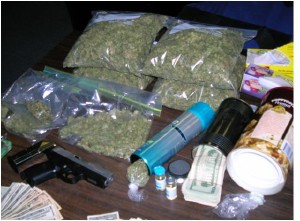 Inyo Sheriff Bill Lutze said he doesn't know yet how the Inyo Narcotics Task Force, INET, will be affected by state budget problems. Sheriff Lutze did say that an increase in the Vehicle License Fee has supported law enforcement along with other grants. Lutze said if the state decides to shift that vehicle fee to the state general fund, INET will be hurting.
With closure of state task forces, local teams will not be able to go to the state level for help.
Lt. Rob Weber of the Mono Sheriff's Office, commander of the Mono Narcotic Enforcement Team, also said it's a waiting game. He, too, pointed to grant funds and vehicle license fees that support law enforcement. Lt. Weber said there's a lot of politicking going on and the final word has not come down yet.