Due to the ongoing state budget mess the Superior Courts in Inyo and Mono Counties have been shut down on the third Wednesday of each month. That closure is over for now.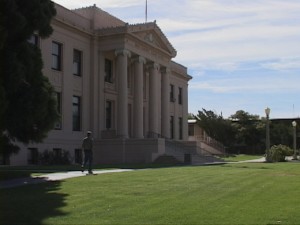 Besides schedule back ups, having courts closed one day a month left some residents wandering empty halls wondering how to pay off a ticket.
Tammy L. Grimm the Court executive officer for the Inyo Superior Court explained that in 2009 the California Judicial Council approved the unprecedented one day a month closures for all state courts in order to address the ongoing state financial crisis. These closures ended July 1 even though the fiscal crisis continues. On Wednesday, the courts were once again open in both Inyo and Mono Counties.
Grimm reports that some courts in California will continue the closures, but Inyo is a small court that has been, tight with the budget, and will re-open on the third Wednesday of each month.
Mono County Superior Court staff reports that the closure signs are coming down and they are open once again on the closure days and will return to their previous schedule.