Tragedy in the Eastern Sierra over the weekend – Scott Sederstrom, a well-known rock climber, died in an apparent climbing
accident on Friday.
The Inyo County Sheriff's Department reports that on March 14, shortly after midnight, the Inyo County Sheriff Department was dispatched to the Lower Gorge for a report of an overdue hiker.
The missing hiker, Scott Sederstrom age 44 of Bishop, who worked at Mammoth Hospital, was reported to be at the Lower Gorge
earlier in the day doing some climbing.
When Mr. Sederstrom did not return that evening, his fiancé drove to the lower gorge parking lot and located Sederstorm's van and
dog.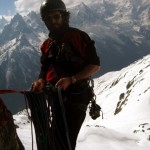 An Inyo County Sheriff's Deputy along with a California Fish and Wildlife Officer searched the area for Mr. Sederstrom but were
unable to locate him.
At about 6:30AM the Inyo County Search and Rescue team was called.
About an hour after the Inyo SAR team began its search of the area, Mr. Sedestrom's body was located by a family friend in the gorge. Once the body was identified, Deputy Degeorge of Mono County took over the investigation.
Several Inyo SAR members along with several Mono SAR members remained on scene to assist in the body recovery.