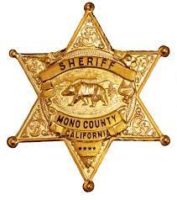 From: Sheriff Ingrid Braun
Date: August 19, 2021
Re: Press Release – Juvenile Subject Detained in Violent Assault at Party
___________________________________________________________________________________________
On Saturday, August 14, at approximately 10:19 pm, Mono County Sheriff's Office Dispatch received a 9-1-1 call
for a juvenile who had been badly beaten at a party near the Crowley Lake Dam.
Several juveniles from both Mono and Inyo Counties attended the party. At around 10 pm, an argument began,
and the 17-year-old victim ended up on the ground. The 16-year-old suspect punched the victim in the face and
head multiple times until the suspect was pushed off of the victim by another partygoer. One juvenile called
9-1-1 and stayed with the unconscious victim until medics and law enforcement arrived.
The incident was captured on video by several juveniles at the party and most of them fled the area prior to law
enforcement arrival. The victim was transported to Mammoth Hospital and treated for severe face and head
injuries.
Mono County Sheriff's Office conducted an investigation and identified the suspect as a resident of Bishop. The
suspect was detained on Thursday August 19, 2021 and transferred into the custody of Mono County Juvenile
Probation. The findings of the investigation will be presented to the Mono County District Attorney for review.
Due to the age of the individuals involved, their identities will not be released. This is an active investigation and
anyone with information is asked to contact the Mono County Sheriff's Office.
The Family has set up a GoFundMe page. If you would like to help them with Medical and Legal costs, CLICK HERE