Local Attorney Gerard Harvey was arraigned Tuesday on four felony charges.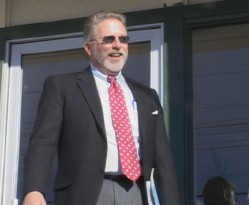 Harvey was charged in March of 2009 on five felonies. After a December hearing, a judge decided that there was enough of a case to move forward with four of the charges. According to Assistant District Attorney Mark Johnson, Harvey is currently being held to answer to three charges of threats to dissuade a witness and one count of attempting to bribe a witness.
Attorney for the defense, Tom Hardy, reports that Harvey has pleaded not guilty to all of the charges. The next hearing date has yet to be set due to scheduling complications with a visiting judge.
Callers to the station have questioned how an attorney such as Harvey can qualify for a public defender paid for by the county. When asked, Tom Hardy explained that a Judge determines the eligibility of the defendant after reviewing the defendants income and assets and then appoints a public defender if the defendant cant afford one.
In this case, Hardy explained that the Judge further determined that the regular contract public defenders all had conflicts of interest which legally prevented them from representing Mr. Harvey. The court asked Hardy to represent Harvey, and Hardy accepted the job.
Hardy says, When the case is concluded, the court will almost certainly review Mr. Harveys ability to reimburse the county for any costs of court-appointed counsel, and can order him to repay some or all of those costs, depending on his ability at that time. He calls this a standard matter.
Hardy adds that, The right to counsel when accused of a crime, along with the presumption of innocence, is one of the most fundamental rights that we enjoy as citizens.