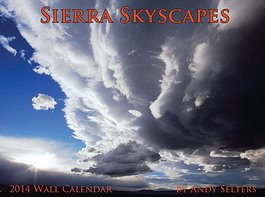 With Christmas gifts on the mind now, some shoppers look to locally produced art with some social or environmental benefit. One wall calendar shows off Eastern Sierra skies and supports clean air. Such a project features photographer Andy Selters in conjunction with the Great Basin Unified Air Pollution Control District and the Clean Air Projects Program.
The calendar, called Sierra Skyscapes, starts out with a message from Selters who talks about the sky as a door to a magic view. He then points to the need for clean air in connection with the sky. Selters writes that the calendar is "a celebration of the unity of the sky we see and the air we breathe." He credits the APCD with watch dogging the air.
Selters names the air pollution sources here – pollution from the San Joaquin Valley and even from as far away as China. Closer to home – woodstoves and fireplaces and, of course, dust storms from the Owens Lake and Mono Lake.
Selters points to the American Lung Association's information that shows the "cleaner the air the more we thrive and the longer we live."
Check out lots of locally produced art and some with social messages at local stores.