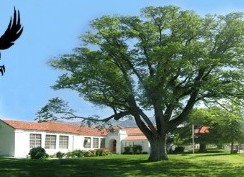 A shorter school day, minimum requirements met and some better and some worse test scores. Parents of students at Lo-Inyo Elementary in Lone Pine have varying views of their children's school. The Administrator says he's proud of the school operations.
At least one mother pointed to the change in the length of the school day as a benefit for the school's bottom line but not for the students. School District Administrator Victor Hopper said the change from a 3pm school day end to 2:18pm was solely to give teachers a common time at the end of the day to do preparations for the next day. He said this new school time also saves money. Previously, he said, the school had to hire a teacher to cover teachers' prep times that happened all through the day. But the suddenly earlier days' end time has left some parents with major inconveniences.
Hopper also pointed to a loss of $150,000 because the assessed value and taxes from Coso Geothermal went down. He said the District is looking for ways to save money.
Hopper said a school bus scheduling problem is also a matter of money. Lone Pine is required to maintain one bus route to Independence for students from that town that attend school in Lone Pine. Since the change of the end of the school day, the bus would have to drop kids off in Independence eight minutes earlier than they have to go home. Hopper said officials can not leave students unattended. So that service is out, much to the dismay of parents depending on it. Hopper maintains the school can't afford to cover those eight minutes.
Though some parents say Lo-Inyo fails to meet education code requirements and has no real GATE program, Hopper said Lo-Inyo has the flexibility to put GATE money in the general fund. He said it's $9,000. Hopper also maintains that the elementary school provides required physical education – 200 minutes every 10 days. Their physical activities take place outside. The Administrator said all Lo-Inyo teachers are multiple credentialed and can teach PE as well as other courses.
To criticism that the school does not offer enough visual and performing arts, Hopper said the school offers required art and that's enough. On recent test scores, Hopper said Hispanic students and those in the lower socio-economic scale showed positive gains. On the other hand, he said the white sub-group took a dip. Hopper said now officials will examine the situation and see what's going on. He said, "We are constantly looking for data."
Also to critics, Hopper said he would ask that they join in and be part of the solution. He will talk to the Lone Pine Chamber of Commerce October 2nd on the "perception that our schools are failing." Hopper also pointed to the US News and World Report finding that Lone Pine was one of the top high schools in California. That status, he said, was based on the number of students passing advanced placement tests.