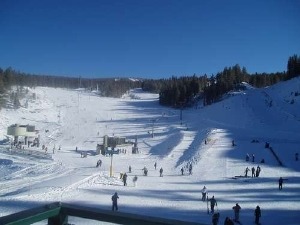 While many have noted the renewed spirit and customer service at June Mountain when it re-opened this month, others have wondered what happened to the liquor license. Currently, June Mountain offers beer and wine Friday, Saturday and Sunday only. Mammoth Mountain Chief Administrative Officer Ron Cohen explained what happened.
Cohen said that typically businesses are required to surrender a liquor license if the premises is closed. When June Mountain closed, that's what the Ski Area had to do. They transferred the license to the new Underground Lounge in the Village at Mammoth and went through the required public process to do that.
With the re-opening of June Mountain, the Ski Area applied for a new and separate liquor license for June Mountain. That process, Cohen said, is well underway. Meanwhile, California Alcohol Beverage Control did allow a series of temporary permits with limited days for June Mountain. Cohen said due to a number of circumstances, the permanent license was not in place for the opening of June Mountain, but the Ski Area hopes to have a full license in place by mid-January, according to CAO Cohen.
As for the re-opening of June, a number of people have commented on the good vibe and helpful staff. However, everyone points to what is definitely needed – more and lots of snow.