News release
CLOVIS, Calif., November 30, 2018 – For Immediate Release. With the recent change in weather conditions, Fire Officials with the Sierra National Forest are declaring the Lions Fire out, terminating Forest Order No 05-15-51-18-11, dated July 14, 2018.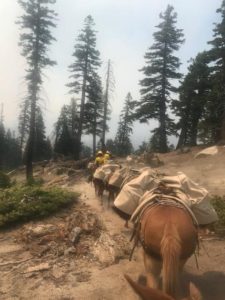 Visitors will once again have the opportunity to travel through the Ansel Adams Wilderness where the Lions Fire burned. The Lions Fire was a holdover fire from a lightning strike on June 01, 2018. The fire was spotted June 11, 2018 by the Mt. Tom Lookout.
The fire was located in designated wilderness; therefore firefighters used natural barriers for containment lines, ground support from Forest Service mule teams, and minimum impact suppression tactics (MIST) whenever possible.
The Lions Fire burned 13,347 acres with similar effects as the Butte Fire in 2017, creating a mosaic landscape within the fire perimeter. Over half of the fire area burned with low to moderate intensity, while small pockets of unburned vegetation still remain in the interior. This mosaic pattern creates diversity within the landscape which is vital to ecosystem health and for wildlife habitat.
Wildland fire, just as wind and weather, has helped shape the beauty of the Sierra Nevada and is an integral and necessary part of the ecosystem. The Lions Fire effects help diminish the risk of future fires in the area being larger, more destructive, and harder to control. In particular, the Lions Fire footprint creates a fuel break, providing one significant piece of the puzzle that reduces the potential for an unwanted fire to move towards the developed areas of Reds Meadow Valley and the Town of Mammoth Lakes.
We know that our visitors and the mountain communities are affected by our management decisions. We attempt to find a balance in returning natural fire to the landscape to reduce the risk of larger, unwanted fires and to achieve the ecological benefits of natural fire. The forest appreciates your patience and understanding during these periods.
For further information regarding the Sierra National Forest and recreational activities please contact the High Sierra Ranger District office in Prather, Calif. at 559-855-5355; the Bass Lake Ranger District in North Fork, Calif. at 559-877-2218; or the Forest Supervisors Office in Clovis, Calif. at 559-297-0706.
Please follow us on twitter www.twitter.com/SierraNF and Like the Sierra National Forest on Facebook at www.Facebook.com/SierraNF, visit our website at www.fs.usda.gov/sierra.
Know Before You Go: Become familiar with the area that you are visiting. Call the local Forest Service office near the area you will be visiting to check for conditions, restrictions and closures.