The Lion Fire in Sequoia National Forest continues to churn smoke over the Sierra and into Inyo-Mono.  The fire has now reached more than 16,350 acres  and is 15% contained.  A public meeting will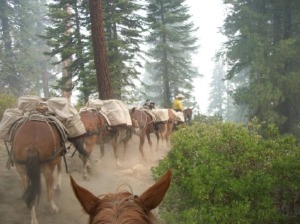 take place Monday, August 1 at 6:30pm at Boulder Creek Resort in Lone Pine with the Forest Service, air pollution officials and health officials in attendance.
The biggest concern in the Eastern Sierra remains smoke pollution.  The Forest Service announced early on that they would let the lightning-caused fire burn itself out and destroy dangerous forest fuels in the process.  Officials said that there has been no fire in the area for 90 to 100 years.
Forest Service crews have taken steps to protect structures and somewhat manage the direction of the fire.  Officials said that smoke will continue in the Kern River Valley, Eastern Sierra towns and mountain communities of Tulare County. More information on fire strategy and smoke impacts will come up at Monday's meeting in Lone Pine at 6:30pm at the Boulder Creek Resort.
Meanwhile, a novel side note on the Lion Fire – A pack train of 30 horses and mules came to the aid of firefighters.  According to the Forest Service, the animals will haul food and supplies into the Lion Meadow area where 55 firefighters are based.
The animals came from seven national forests in California and are part of the packing effort, which is coordinated by the US Forest Service's regional pack stock program.
According to Los Padres National Forest Wilderness Manager Pat Bailey, the pack train can haul 1200 pounds per trip and supply a crew of 20 people for three days.  The trip takes about 9 hours, making for a long day in the saddle.
Lion Fire Incident Commander Paul Gibbs added that it's good to have horsemen on the ground, "updating wilderness visitors on the status of the fire."  The pack train can also make deliveries when it is too smoky for helicopters to supply crews.