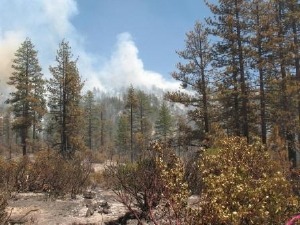 The Lion Fire, sparked by lightening two weeks ago, continues to burn and had reached 5500 acres over the weekend.  Sequoia National Forest spokesmen said they are managing the fire as "an ecological burn to reduce 90 to 100-year-old fuels."  The fire continues to churn smoke into the San Joaquin Valley, Kern County and the Eastern Sierra.  According to the California Environmental Protection Agency, coordination continues among air pollution control districts in the three regions.
Smoke has continued to drift into the Owens Valley with afternoon winds.  Forest Service officials have met with air pollution control districts and plan to work with them as they monitor the smoke impacts from the fire.
Officials say that smokey conditions will likely last over the next few months though impacts will vary depending upon what the current weather conditions are and how many acres have burned.
The Forest Service confirmed that they and others continue to manage this fire to clear out dangerous fuels.  Trail closures are in effect in and around the Lion Fire in the Golden Trout Wilderness.