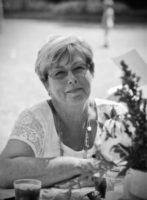 Linda Gail Ellis (Swan) was born September 11, 1948 to Vern and Flora Swan at Miss Freise's Maternity Hospital in Bakersfield, California. She was welcomed by her brothers Gary and Darryl Allbee. As a child, Linda romped around the rural area with siblings, friends and her large extended family that included numerous cousins. It was a time when life was simple and carefree. At the age of 6, Linda and a close friend went to work with her friend's father at a new park being constructed in Anaheim. The father worked for a man named Walt. At that time, the area was still mostly orange groves as far as the eye could see. After playing in the fields, the girls were asked to give their childish opinions of a ride that was being worked on for the park. The ride would later be called the Jungle Cruise when the Disneyland Park opened the following year in 1955.
At 18, while Linda was attending a golf class in college, she was literally struck by love when she was struck by a wayward golf ball that was hit by a handsome young man she would later marry; James E. Ellis. Jim always claimed he was aiming for the blonde standing next to her, but admits it was the greatest golf shot he has ever made.
In 1967 Jim and Linda married and moved to Lone Pine, California, where they began raising their three children; James, Rick and Debbie. Linda was a loving and devoted mother and wife, and her children were the fuel that drove her.
While a young mother of 3 in 1972, Linda experienced the loss of her own mother to lung cancer. Before her passing, Linda's In-Laws promised Flora that they would love, care for and protect her daughter as if she were their own; a promise Jim and Juanita Ellis each kept until their own passings in 2016 and 2020.
Linda was an avid craftsman: she was creative, driven and loved making things with her hands. This quickly turned into a love of sharing her creations as gifts. Anything from a hand-sewn wall hanging to stained glass terrariums and ornaments, crocheted slippers and blankets to wooden nightstands and hope chests were churned out of Linda's shop and given as gifts year after year. There was no limit to what she could create, and she thrived on the challenge to do something bigger and better each time.  Jim Ellis Sr. often publicly praised Linda as the most capable person he knew, and she could often be found by his side in his wood working shop learning the trade.
Although she dabbled in a variety of mediums, her true passion was fabric. Through the years she sewed numerous items, from casual dresses to prom dresses, wedding dresses, bridesmaid dresses and flower girl dresses. Her favorite dress was a simple A-frame tea length white chiffon dress that she made for herself for her wedding day. Her love of sewing clothes transitioned easily into quilts; for which she was well known for in the surrounding area. Her beautifully crafted pieces could be admired every year at the annual fair, along with a homemade pie; lemon meringue was what she was known for.
Through the years Jim and Linda made their way up the beautiful Owens Valley to Bishop, making many lifelong friends along the way. Bishop is where she truly called home, where they lived most of their years together raising their family that grew to include 12 grandchildren and one great grandchild, with another on the way.
After retiring with her husband from the Department of Water and Power in 2012—where Linda worked as a secretary—they packed their bags and hit the road. Linda could always be found sewing in the recreational room at the RV Park in Pismo California where they spent several weeks a year enjoying the beach, the golf courses and meeting new people while traveling in HER motorhome. There wasn't a fabric store within 1,000 miles she hadn't been to, and there wasn't a town she visited where she didn't befriend someone.
She touched so many people along her life's journey, even at the very end, where in the last weeks of her life she befriended another beautiful soul in the hospital. Linda and Helen could be found sitting side by side holding hands watching old black and white movies and testing each other's knowledge by naming the actors from their pasts. She never lost her spirit to touch others' lives.
Linda passed away from her battle with brain cancer and breast cancer on January 25, 2022, peacefully in her home in Sparks Nevada, literally surrounded by family in a room full of blow-up beds and sleeping bags. Linda was devoted to life; her candle burned brightly, and she spent her 73 years doing the things she loved, being with those she loved and caring for all in her life. Linda is survived by her husband Jim, her three children; Jim Ellis (Cami) of Bishop, Rick Ellis (Alix) of Ely Nevada, Debbie Wethern (Jason) of Reno Nevada, her brother Darryl Allbee and numerous cousins and her beloved grandchildren and great grandchild. She will be truly missed by her family and all those whose lives she touched with her generous and giving spirit.
Services will be held February 26, 2022, 11:00 am at Our Lady of Perpetual Help Catholic Church 849 Home St. Bishop, CA. Graveside services at E. Line Cemetery to follow.