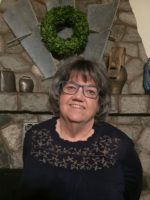 Linda Alice Lee Arcularius, age 72, peacefully passed away on January 15, 2022 at her loving home in Round Valley outside of Bishop, California. Linda was born on March 19, 1949 in Reno, Nevada to James and Jeanne Lee. She spent her childhood in Tonopah, Nevada where she met the love of her life, Howard Arcularius, as a teenager. Howard and Linda were high school sweethearts, graduating from Tonopah High School in 1967 and then attending the University of Nevada at Reno (UNR). The two were wed while attending UNR on December 19, 1970 before graduating in 1971. Linda graduated from UNR with a degree in education.
Linda devoted her life to serving her family and helping the multi-generational Arcularius ranches thrive, first in Tonopah then in the Sierra Valley outside of Portola, CA. In 1981, she and Howard moved to the family homestead outside of Bishop, CA where they worked the Arcularius ranches in Round Valley and Long Valley. While a Nevadan by birth, the Round Valley ranch became her home and heart.
Linda's love for the Bishop community started almost immediately as she became engrained in helping the youth of Round Valley and Bishop. She was an early leader of the Pine Creek 4-H Club and a devoted volunteer at Round Valley Elementary School, including serving on the PTO. Her involvement in the Round Valley community would eventually lead to her first public office as a member of the Round Valley School Board where she served for over seven years until she was appointed to the Inyo County Board of Supervisors.
Her career in public service was most prominent as Inyo County Supervisor. Gubernatorially appointed in 1993, Linda eventually served five terms, four of which she ran unopposed, as a member of the Inyo County Board until her retirement in 2014. Her 21-year plus career as an Inyo County Supervisor led her to state and national representation of rural communities and the agricultural industry including serving as President of the Rural Counties Representative of California and as a representative to the California State Association of Counties and the National Association of Counties as well numerous local and regional commissions and organizations. After retirement from the County, her civic devotion extended to leadership roles on multiple local boards, most notably on the Inyo Council of the Arts and the American Mule Museum. She was widely respected and liked by all who encountered her in her professional career, no matter what side of an issue a person stood.
But Linda's most cherished role was that of wife, mother, and Nana. Married to Howard for 51 years, he was her soul mate and by her side until the very end. She often worked with him side by side on the ranches, but she will forever be remembered for her ranch cooking and after-branding meals that often left the cowboys and cowgirls yearning for a good nap in the sun after indulging in her culinary treats. Together, Howard and Linda raised three children who each continue her legacy of supporting the rural way of live and serving their communities.
Linda is survived by her husband of 51-year years Howard; son Bret Arcularius and wife Leslie; daughter Kristi (Arcularius) More and husband Erik; son Ben and wife Randee (White); grandchildren Amanda (Arcularius) Hamilton, David Arcularius, Brian Arcularius, Rylee Arcularius, Ty Arcularius, Colton More, and Jacoby More; and beloved in-law siblings, nieces, and nephews.
Linda leaves behind a legacy of respect, generosity, and unconditional love. She will be greatly missed. A private memorial service will be held for the family at a later day. Understanding Linda's love of written notes, the family is encouraging individuals who want to honor her to send letters, notes, cards, pictures, or emails sharing their thoughts and stories. The remembrances will be collected and shared with the family for generations to come. To inquire about how to send a tribute, please email [email protected]. Donations in her honor can be made to the Round Valley STEP Foundation at www.roundvalleystepfoundation.com, the Bishop Union High School Foundation for Excellence at https://ffebishop.com, or the American Mule Museum at https://www.mulemuseum.org.