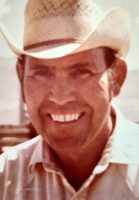 It is with great sadness that we announce the passing of Lincoln Clark 'Link' Stanley on December 30th, 2021, at his home in Bishop, with loving family members by his side.
Link was born in Jett, Oklahoma on February 12, 1932 to Ralph and Lydia Stanley. When he was 6 months old, he moved west with his parents and brother from Oklahoma to Fish Lake Valley, Nevada. As a young man growing up in Fish Lake Valley, Link worked at the Cord ranch, Bar 99 ranch, Arlemont Ranch and many other of the old ranches in the area working cattle and farming hay. At 14 years of age, Link quit school and went to work full time at the Cord Ranch, a couple of years later, he traveled to and worked around northern California and eastern Oregon, before returning to Fish Lake Valley around 1950 to work as the cattle boss for the Arlemont Ranch.
On one trip to Bishop to attend a Rodeo and Homecoming Dance, he met Patricia Johnson and the two were married in 1951. In 1953 Link joined the U.S. Airforce, attended basic training in Cheyenne, Wyoming and then four years active duty and an addditional 3 years as a reserve serving in Iceland during the Korean War, before being honorably discharged in 1960. After his service to his country, Link, Patricia and their two young children moved back to Bishop where he got a job with CalTrans as an equipment operator, and eventually retiring as a district safety supervisor. Link loved leather work and his business, "Link's Custom Leather", kept him busy repairing saddles, making belts and wallets, and beautiful leather artwork. He was very involved in the Homecoming Rodeo Association, and loved helping out at the local ranches, especially with his great friends at the C Ranch and the Yribarren Ranch, and there was nothing better than spending the day on horseback working cattle. Link enjoyed doing deep pit BBQs for big crowds of people, and was famous for his beans and his giant bean pot. He happily volunteered his time and talents for High School Rodeo, 4H / FFA, Mule Days and anyone else that needed help feeding alot of people.
After retirement, he went on to work at the Laws Railroad Museum for a number of years where he introduced his his great-grandson, Owen, to a "Love of Old Things". Link loved his grandchildren and never missed any of their activites, lending a helping hand, hugs to anyone that needed one, and always with that big smile and a hello to everyone. He worked hard his whole life, keeping busy with his woodworking and making rocking horses for many toddlers in the valley. He still kept up his own yard and tended to his flower and vegetable gardens.
Link was preceded in death by his son Chris, and his brothers William, Bob and Jack. He is survived by his wife of 70 years Pat; daughter Cindy and husband Eric Johnson; granddaughter Trisha and husband Grant Wallace; grandson Troy Johnson and wife Kristi; great grandsons Owen Hildenbrand and Tychus Johnson.
Graveside service will be held at the East Line Street Cemetary on Saturday February 12, 2022 at 1:00 pm. Reception following.