Press release
Sequoia and Kings Canyon National Parks, Calif. (Oct. 29) — After more than a week of searching for hiker Robert "Bob" Woodie, the mission has been put on hold due to a series of incoming winter storms forecasted for over the next week.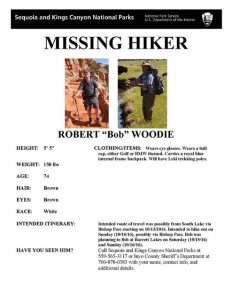 All search teams were taken out of the field Wednesday afternoon in anticipation of the significant weather event, which was forecasted to bring two to three feet of snow at elevations above 8,000 feet and high winds, with gusts up to 75 mph.
"We've completed very thorough ground and aerial searches in very difficult terrain over the last nine days, but the storms would put our search teams at risk and decrease our ability to find clues," explained Rich Browne, incident commander for the search. "When it clears, we'll reassess, but it does look like weather and snow coverage will end our ability to continue active ground and aerial search operations."
The suspension of an active field search moves the operation into what is called "limited continuous," which may include air searches, backcountry patrols, and outreach to hikers heading into the area. The operation will be upgraded to an active search if any leads about or whereabouts of Mr. Woodie are discovered. Additionally, the Incident Management Team continues to evaluate data collected by field teams while investigators continue to follow up on leads.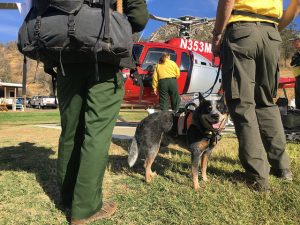 The itinerary for Mr. Woodie, a 74-year-old resident of Manhattan Beach, CA, was a four-day backpacking and fishing trip between Thursday, October 13 and Sunday, October 16. An experienced hiker who knew the area, he parked his vehicle at the South Lake trailhead in Inyo National Forest and hiked over Bishop Pass into Kings Canyon National Park. An "OK" check-in message was sent from his satellite GPS device on Saturday evening from the Barrett Lakes area. A winter storm that night and next day brought very high winds, overnight temperatures to below freezing, and snow to some areas above 10,500 feet. When Mr. Woodie did not return from his trip, his family notified authorities.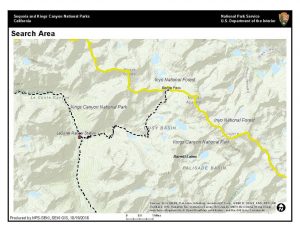 The National Park Service continues to ask the public to contact officials at 559-565-3195 if they were in the search area between Thursday, October 13 and Thursday, October 20. The 26-square-mile search area within Kings Canyon National Park consists of Bishop Pass, Dusy Basin, Barrett Lakes, and the John Muir Trail/Pacific Crest Trail between Muir Pass and Mather Pass. The area is a high sierra alpine environment, between approximately 8,000 and 12,000 feet elevation. The rugged terrain includes areas of forest, alpine lakes, and areas above tree line with talus slopes and rocky mountain passes.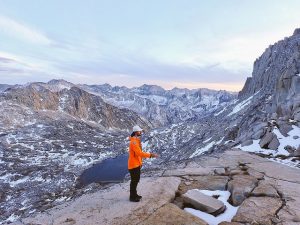 Over 130 personnel have worked on this multi-agency operation within Kings Canyon National Park. They include Yosemite National Park (YOSAR, including YODOGS, and Helicopter 551), L.A. County Sheriff's Department (with Sierra Madre Search and Rescue), and Fresno County Sheriff's Department, San Mateo County Sheriff's Department, California Office of Emergency Services, China Lake Search and Rescue, National Weather Service's Hanford field office, USGS, and U.S. Forest Service.