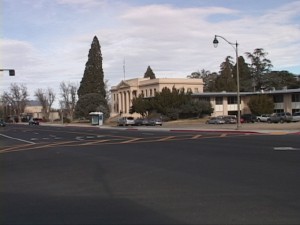 This press release from Inyo County explains a proposed speed limit change through Independence:
Inyo Supervisors were notified that  CALTRANS is proposing to increase the speed limit on U.S. 395 through Independence from 25 to 30 mph
Caltrans informed the Inyo County Board of Supervisors that the results of a speed zone survey on U.S. 395 in the community of Independence support an increase in the speed limit from 25 mph to 35 mph and based on current critical and pace needs is recommending the speed limit be increased to 30 mph. Caltrans is recommending the elimination of incremental speed zones and the replacement of speed limit signs coming into the community of Independence with informational "30 mile per hour zone ahead"signs.
California Vehicle Code §22354.5(b) provides for the Board of Supervisors to conduct a public hearing on proposed speed limit increases or decreases on state highways in its jurisdiction and Caltrans is required to take into consideration the results of the public hearing in determining whether to increase and/or decrease the speed limit.
In order to promote residents participation and to expedite information to Caltrans, the Board of Supervisors has scheduled a public hearing on the increase of the speed limit through Independence from 25 mph to 30 mph for 6:30 p.m. on Tuesday, May 15, 2012 in the Board of Supervisors Room at the County Administrative Center in Independence. The Board of Supervisors encourages the residents of Independence to attend the public hearing to learn more about Caltrans' proposal and to provide input on the proposed changes to the speed limit on U.S. Highway 395 into and through Independence.